A whimsical fairytale is the vision Maryanne & Seyi had for their wedding. Classic with a twist. Choosing the heritage-listed oasis of OLD GOVERNMENT HOUSE in Brisbane, Queensland - which was located at the university campus they both attended - they said their vows underneath a beautiful big stone arch located in the intimate open-air courtyard that is nestled in the heart of the house. Queensland wedding photographer MALLORY SPARKLES was on hand to capture their beautiful celebration.
HOW DID YOU MEET? We met at a wonderful waterfront dining and bar destination in Brisbane's CBD called Friday's Riverside. We were both out with colleagues for after work drinks when each of our group tables ended up joining. We hit it off and haven't looked back since.
TELL US ABOUT YOUR PROPOSAL: Seyi proposed after asking my father for permission, and then hunting for the perfect spot on the Gold Coast. As we approached the first lookout Seyi asked if I would like a photo with me looking out to the coast and endless ocean of blue. After I obliged, he told me to turn around and there he was, down on bended knee with the ring in hand asking me to be his wife!
TELL US ABOUT FINDING YOUR WEDDING DRESS: Finding the perfect wedding dress was a mission as there were a quite a few designs I loved and could picture myself in a variety of different styles. However, I ultimately decided that I wanted something that felt timeless. I settled on a Pronovias Dress which was embellished with lace and detailing. Each dress is made by hand and takes about 120 hours to finish. I loved the intricate embroidery which added to the uniqueness of the dress.
DID YOU HAVE ANY DIY ELEMENTS? Yes. For the ceremony I made the petal cones to put the freeze dried rose petals in, which were thrown in the air as we exited down the aisle. We also put together the wedding favours for the reception which were little chocolates wrapped up in gold box tied with delicate white ribbon to complement the table settings. We drove out to an Olive Farm at Pine Mountain to get all the foliage to dress the guests tables at the wedding reception. We also made a DIY Photo Booth where guests could take a polaroid and stick it in the guestbook with a hand-written message to help us capture memories and well-wishes on the night.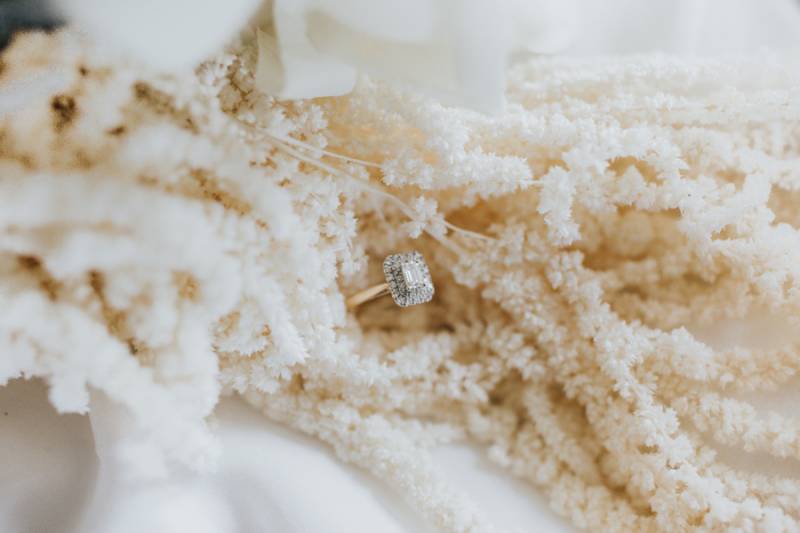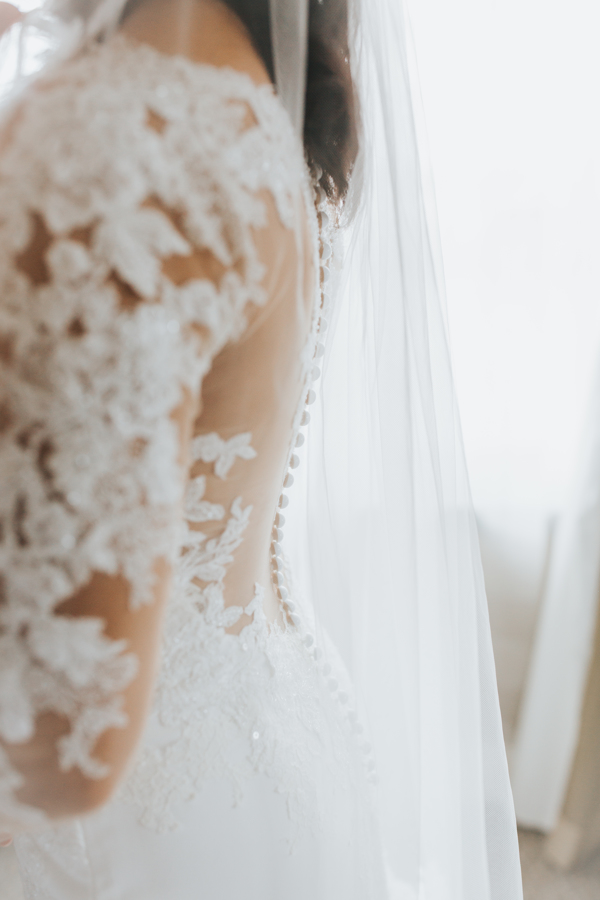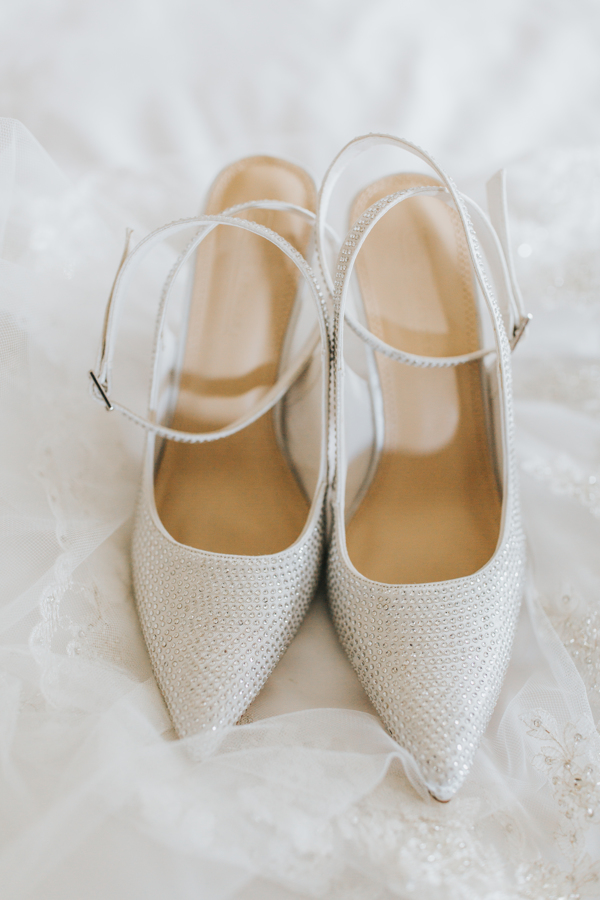 DESCRIBE YOUR WEDDING FLOWERS: We worked with Emilia from Bloodwood Botanica who is a sculptural floral designer based in Noosa. Her work is incredible and a real embodiment of fine art and it doesn't hurt to mention that she has been featured in Vogue and Harpers Bazaar and has worked alongside some luxurious brands such as Valentino, Louis Vuitton, and Ferrari. She helped put-together a very unique bridal bouquet featuring bleached amaranthus to get its pure and crisp white colour whilst the texture provided a beautiful, soft, draping effect. I haven't seen this done before and it just spoke of volumes of her creative flair. My bridesmaids had soft pink reflexed Columbian roses in a diminutive arrangement to complement my own. We had dreamy palettes of whites with undertones of pastels to compliment the bridesmaids dresses all contrasted against wild garden foliage.

FAVOURITE DETAIL OF THE DAY: There were so many, but definitely the best thing was having family and friends join us, especially those that had travelled long distances. One of our friends, in the middle of studying for her law exams, flew in from Paris, and my cousin and her family flew in from Los Angeles. Her children were one our flower girls and page boys. Members of Seyi's family also joined us from London and Lagos. We could not be more grateful, celebrating with our friends and family are what made the day!!
WHAT ADVICE WOULD YOU GIVE OUT TO A COUPLE PLANNING THEIR WEDDING? The best advice I received and would dispense to other newly-engaged couple is to keep it simple! I think wedding planning can be a whirlwind process so it's easy to lose sight of what's truly important. That is, making a commitment to the person you want to build a life with. So don't stress if the napkins are the wrong colour, if your seating chart is the wrong font, or if there's a leak in the church roof on the day. Laugh it off. Think about life after the wedding and the fun projects you'll work on together and that should help to keep things in perspective. There's so much to look forward to after a wedding!
MOST MEMORABLE MOMENT? After the ceremony, hopping in the car when it was just the two of us and going to our photo location. Pretty sure we high-fived each other because the major part of the day was done and we could finally let loose and party with our friends and family at the reception.
WHAT ASPECT OF THE WEDDING WAS THE MOST IMPORTANT TO YOU BOTH? Probably the speeches at the reception. We loved hearing special words from our parents, family and friends that we could cherish for a lifetime.
ANY OTHER DETAILS THAT HELP TELL THE STORY OF YOUR DAY? We had a traditional Nigerian wedding the night before the ceremony. It was very colourful and vibrant with lots of food and dancing to Nigerian music. My friend from Paris also wrote me a little card to open up and read while I was getting ready on the day. It was so incredibly thoughtful and brought tears to my eyes! I also think the initial stages of conceptualising the style and theme was my favourite part of wedding planning. I loved pouring over magazines, blogs, and Pinterest for wedding inspiration – everything from the dress to decor. A lot of my friends were also getting married around the same time so it was nice to have some of my closest girlfriends to lean on during the process. It is such a fun and special time.
TELL US A LITTLE ABOUT YOUR HONEYMOON: We spent a month travelling sunny Europe. We visited France, England, Ireland, Spain, Switzerland, Italy and then had a two-day stopover in Dubai. Positano was probably a favourite city because it is so quintessentially romantic, picturesque, peaceful and laid-back. I won't forget to mention the illegal amounts of wine and carb consumption that went on. We thoroughly enjoyed ourselves. I was ready to quit my job and become an Italian nona selling knick-knacks along the Amalfi Coast and drink limoncello of an evening. It was just so beautiful.
IS THERE ANYTHING YOU WOULD CHANGE OR DO DIFFERENTLY? No regrets but in hindsight, I would have asked for and perhaps paid for some help (I'm too much of a control freak and perfectionist). I would have told myself to relax more and would have outsourced a few jobs early on like making a shortlist of vendors (musicians, wedding cake suppliers, wedding venues etc), finding accessories, making a playlist, developing a draft run sheet etc. Wedding planning is sometimes more of a marathon than a sprint so, if you are in a position, buy as much down-time for yourself as possible and outsource the nitty gritty. You can usually find other professionals on outsourcing platforms like Airtasker, MyTask, and Upwork. That way you avoid paying the hefty price tag for a wedding planner. Pick and choose the jobs you don't really get excited about and see who can help out. Also get yourself a whiteboard and list out all your key dates and deadlines so that you stay on top of things.
A huge thank you to Queensland wedding photographer MALLORY SPARKLES for sharing this beautiful wedding with us. Mallory simply adores weddings, and even more than that loves getting to know her couples and hearing their stories and getting to share in the sweetness of their day! If you're a bride looking for a Queensland wedding photographer see more of Mallory's wedding photography work here and be sure to check out this fun wedding... Alpacas, an orchard and dancing under the stars.