Tucked away in the Historic District of the Charleston peninsula, overlooked by ancient oak trees and regal crepe myrtles, lies the THOMAS BENNETT HOUSE. With lush gardens weaving around this grande double home, and the sound of trickling fountains serenading in the background, this space effortlessly sets the scene for the beginning of a beautiful love story. Hannah, Nick and all of their loved ones gathered here on a golden October day to laugh, dance, cry and celebrate a lifetime of love together. Captured by KAILEE DIMEGLIO PHOTOGRAPHY their beautifully romantic wedding gallery that could make even the coldest heart turn into soft, pink fuzz.
Kailee shares with us, "The day began witnessing Hannah step into her sophisticated SUZANNE NEVILLE gown, designed with sultry, off-the-shoulder sleeves and a chapel length train. Falling perfectly on her silhouette, and complementing her gorgeous features, everyone agreed that the gown was made for her. Downstairs in the garden, Nick and his dad were admiring the sentimental touches exalting the ceremony space. Nick's grandfather's firefighter helmet adorned with a daisy crown sat proudly in the front row. Nick's dad, wearing a tux lined with photos of Nick, hugged his son, assuring him of all the love and support he could need on his big day.
The couple met for their first look outside the white gates of the Thomas Bennett House, with the branches of a 200-year-old oak tree shading them from above. Nick froze in his tracks when he caught his first glimpse of his bride. Unable to move, he crumbled into disbelief at Hannah's beauty and the blessing of her love. The bridesmaids and groomsmen enjoyed their view from the second floor piazza as they watched the humbled groom gape at his bride. After Hannah wiped his tears and embraced him, the couple shared a quiet moment reading their letters and exchanging their thoughtful wedding gifts.
Before the ceremony, we joined the couple to take a sneak peek of the reception area. PURE LUXE BRIDAL and PETALOSO transformed the sailcloth tent into an open-air ballroom; crystal chandeliers were suspended from the ceiling, alongside a brilliant floral cloud bursting with orchids, roses and whimsical baby's breath blossoms. Grande pink velvet couches and velvet tufted ottomans were placed on the perimeter of the dancefloor, giving the luxurious space an inviting touch. The Art Deco inspired bar was embellished with blush pink and gold hues, and a mouth-watering cocktail menu. In the midst of this soft, feminine landscape, romance was in the air and dripping from the ceiling.
After grabbing a flute from the champagne tower and finding a seat on the sunlit lawn, the guests sat back and drank in the enchanting atmosphere. PETALOSO had turned the rustic pineapple fountain into a blossoming arbor; the once aged basin was now overgrown with winding ribbons of orchids and delicate delphiniums. Nick stood at the arbor, alongside family friend and legendary football coach Lou Holtz. Hannah emerged from the lower level piazza, her train sweeping behind her as she made her way up the aisle to her sweetheart. Coach Holtz's wise and grounding spirit was perfect for officiating this devoted team. Through tears and laughter, Nick and Hannah said their vows and kissed for the first time as Mrs. and Mr. Law.
After the ceremony, we met the newlyweds outside to take pictures with the immaculate 1950 Chevy that they had rented in honour of Hannah's father's long career at General Motors. The guests swooned at the glamorous photoshoot while drinking their cocktails from the second and third story piazzas. Eventually, everyone trickled into the regal reception space, either cozying up on velvet couches or taking their places in gold chairs. The black and white wedding entourage strutted into the sailcloth tent with Hannah and Nick parading behind them. Amidst enthusiastic cheering, the couple took to the black and white checkered floor to dance to Andy Grammer's "I Am Yours."
Once satiated by Salthouse Catering's delicious bites, the wedding party was ready to dance and explore the luxuries the night had to offer. Whether you were in the mood for a fresh rolled smoke in the garden cigar lounge, or espresso martinis mixed by Squeeze Cocktail Bar — there was something for everyone to experience. Hannah changed into her sparkling, high slit party dress and flip flops so that she could break it down properly with her friends. Nick loosened up his bow tie and his dad turned his tux inside out so that he was a walking gallery of precious family memories. Grandparents, brothers, sisters, parents and friends danced hard until the last song, savoring every unforgettable memory they created together.
The guests left the ballroom, leaving Hannah and Nick alone for a final couple's dance. They were in disbelief of their magical day, wavering between laughter and tears from all the beauty that had effortlessly unfolded. Outside the gates of the estate, the guests made a glow stick runway for the couple's exit. Hannah and Nick galavanted through, sharing one last passionate kiss before driving away in their vintage Chevy.
Congratulations Mr. and Mrs. Law!"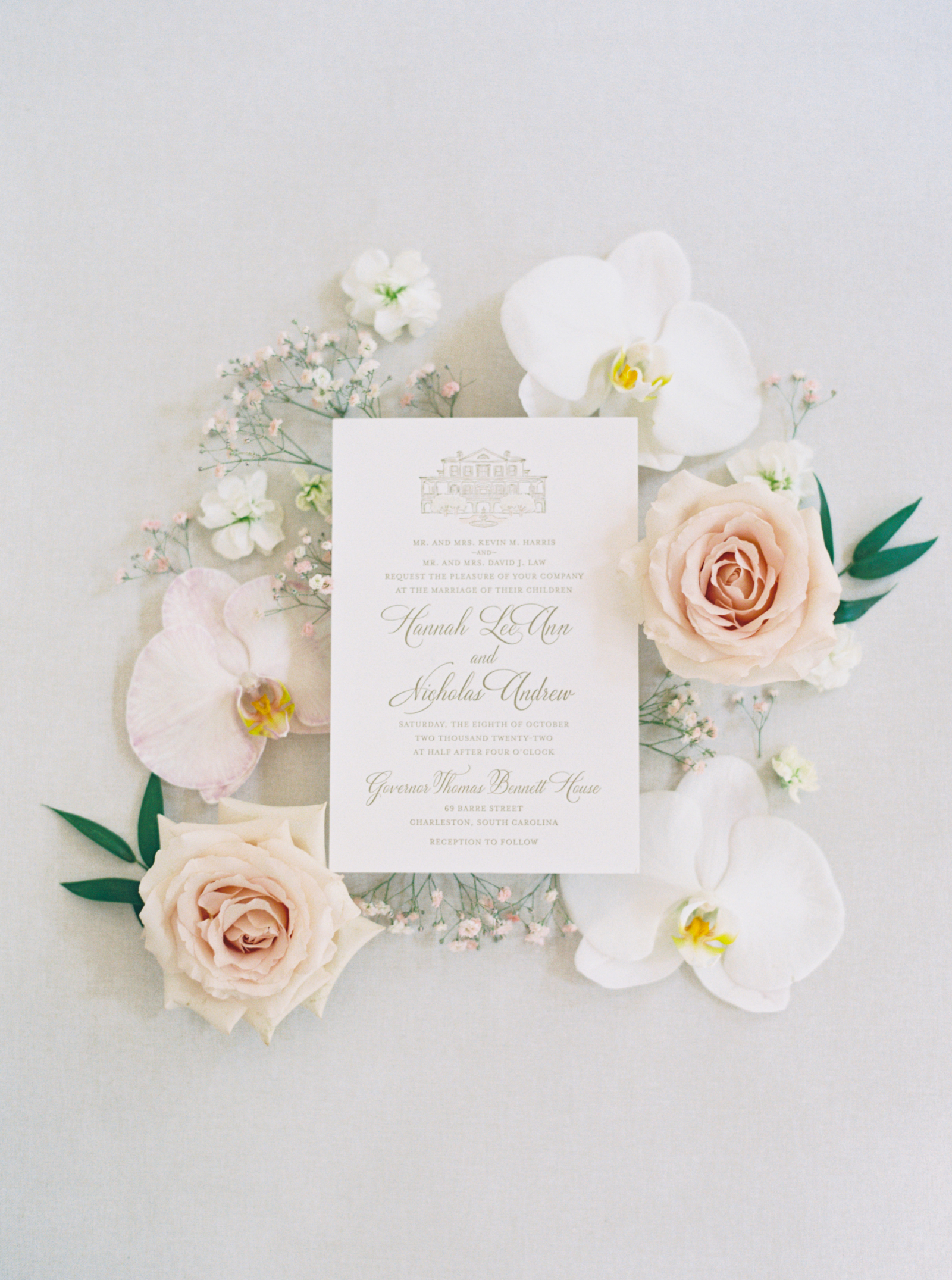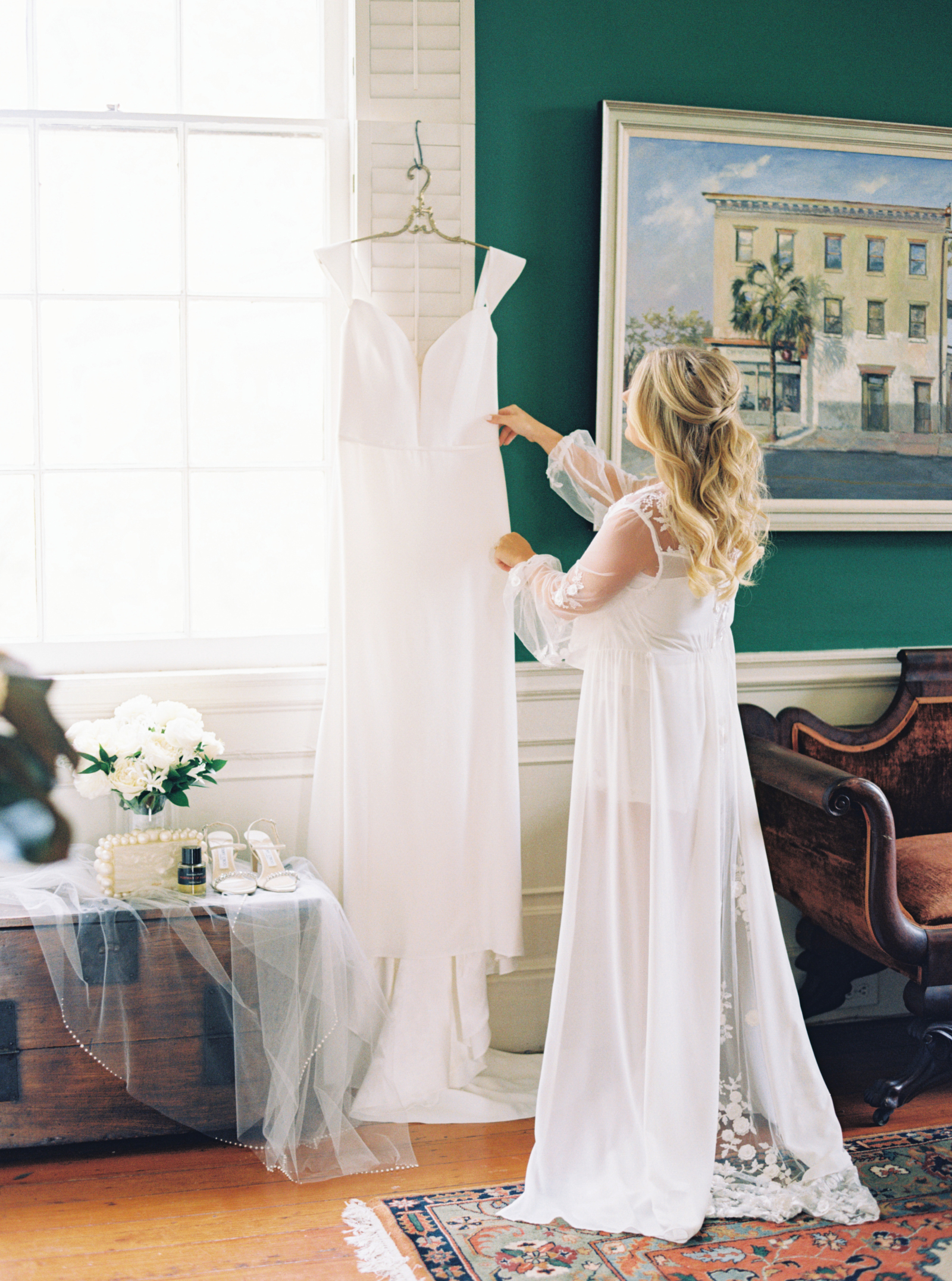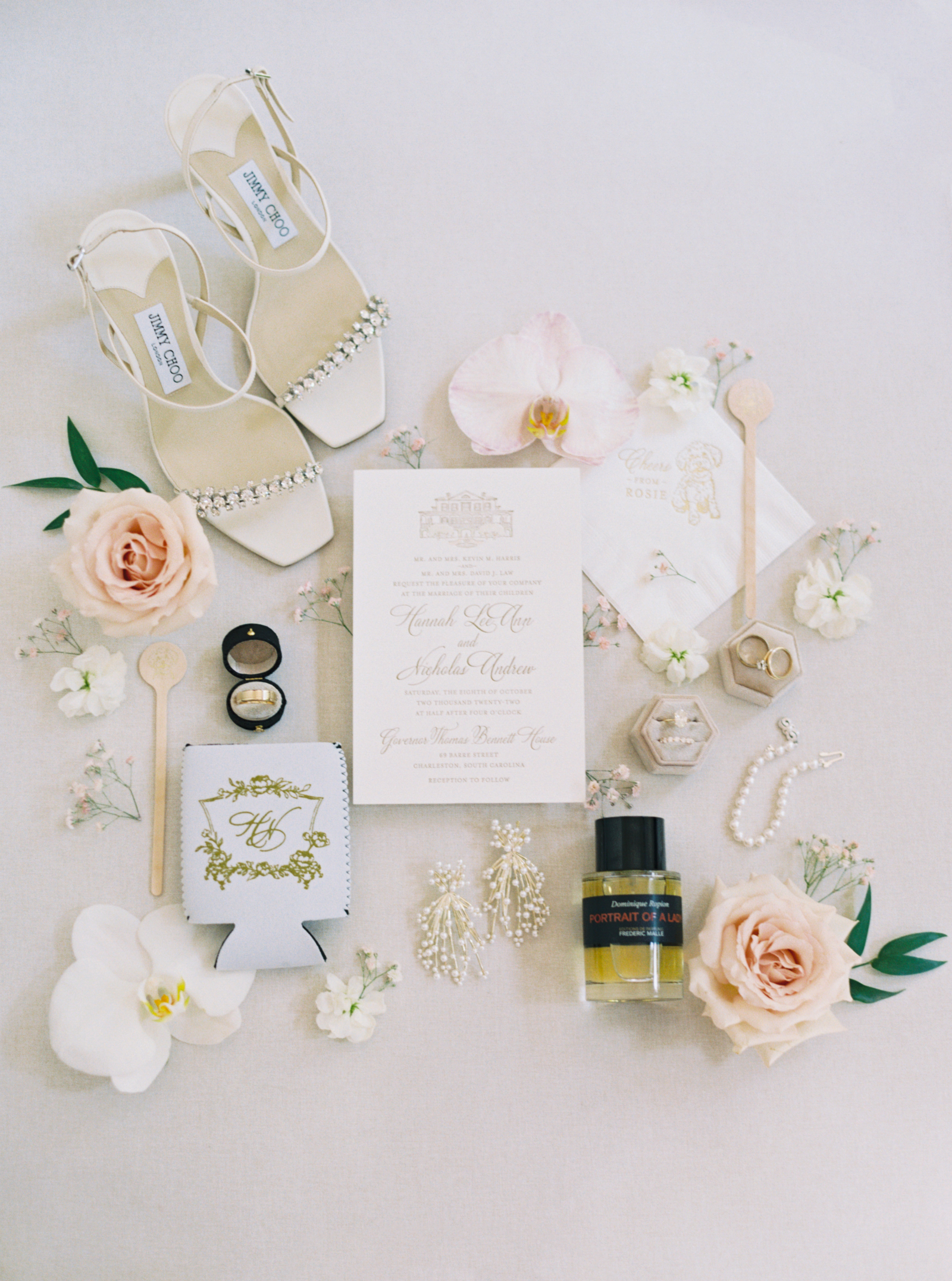 WHAT WAS THE INSPIRATION BEHIND YOUR WEDDING STYLE? Our inspiration behind our wedding style was classic, timeless, with a touch of modern. Having a destination wedding we wanted to incorporate the southern feel for our guests with our food choices, the historical home, moss trees and sailcloth tent. Hannah along with her planners had a specific vision with classic colours, touch of golds, black and white checkered dance floor, the variety of seating options for our guests to give freedom of movement throughout the night. The florals were also an important factor with multiple sizes of arrangements, having the cloud above the dance floor and the fountain being enhanced with layered florals to give the perfect backdrop for our ceremony.
WHY DID YOU CHOOSE THIS LOCATION? We chose Charleston because we both love the city, romance, history, and the charm that is has. We loved that Governor Thomas Bennett was historic, the layout flowed perfectly with our vision and it was unlike any other wedding we had been to before. We wanted something new for our guests.
HOW DID YOU MEET? We met through mutual friends who set us up on a "somewhat" blind date, because we both stalked each others Instagrams the night before and laughed about it on our date. We hit it off right away!
TELL US ABOUT YOUR PROPOSAL: Nick surprised Hannah with all of her family and friends waiting at his parents house. It was also our dogs first birthday so we were celebrating her as well that day. It was intimate and perfect for us!
TELL US ABOUT FINDING YOUR WEDDING DRESS/ATTIRE: Along with the style and vibe of the wedding details, for my dress I wanted something classic and timeless and wanted a touch of the southern feel with a draping off the shoulder affect and buttons down the back.
DID YOU HAVE ANY DIY ELEMENTS? We did not have too many DIY projects but we did have our planners get with our stationery designer and on our programs we wanted to honour that both sets of parents and grandparents had stayed together in marriage until death. We had their wedding photos, along with their wedding dates so that our guests could look at the foundation of marriage and what we had looked up to.
DESCRIBE YOUR WEDDING FLOWERS: Our wedding florals were very classic white and green with a hint of dusty pinks, with lots of baby's breath to give a modern feel. We wanted lots of combinations of big & small arrangements and flowers lining the aisle. Our planners had an amazing vision for our dance floor and fountain which were two focal points in our wedding day vision. It was a dream!
FAVOURITE DETAIL OF THE DAY: All the little details were so important to us, we have so many that we loved, from our programs to honour our family members and their marriage, our cloud of baby's breath above the black and white checkered dance floor, and a custom watercolour painting of our dog as a signature cocktail. We started the ceremony by having a champagne tower for our guests as they arrived for the ceremony. We also had a secret garden with tables tucked away, with a photobooth, a cigar roller, and a his and her late night cocktails, bourbon bar and espresso martini's. Hannah's family has a history with General Motors, having a 1950 Chevy vehicle for photos with the family and something for us to ride off was so special to us.
WHAT ADVICE WOULD YOU GIVE OUT TO A COUPLE PLANNING THEIR WEDDING? Our advice to any couple planning their wedding, hire incredible planners and trust your vendors. We had the best team behind us, they make your day run so smoothly which allows you to actually enjoy your day. As bride and groom, we really were able to soak in every moment of the day and we advise all couples to focus on what's important to you both and enjoy the rest, don't sweat little things.
MOST MEMORABLE MOMENT? Our most memorable moment was our intimate first look. We read handwritten letters to each other and having our bridal party and family watch from the balcony. We were able to have a private moment to ourselves and take it in but having them behind us we felt so lucky and blessed and it was the perfect start to the wedding.
WHAT ASPECT OF THE WEDDING WAS THE MOST IMPORTANT TO YOU BOTH? The most important aspect was having the intimate moment together reading our letters to each other and remembering what the day is truly about. It allowed us have a special moment and calm each others nerves down. It really set the tone for the entire day.
TELL US A LITTLE ABOUT YOUR HONEYMOON: We went to Rivera Maya for our honeymoon and stayed at Banyan Tree Mayakoba. We wanted a place for us to relax, go over all the wedding details together and just spend genuine time together. We loved our resort and are glad we took a relaxing trip. Wedding planning can be stressful and the week leading up had so many moving parts, we felt revived after our trip!
IS THERE ANYTHING YOU WOULD CHANGE OR DO DIFFERENTLY? As crazy as it sounds, we would not change a thing or do anything differently. We were so lucky to have a great team of vendors, our wedding day felt like a movie to us and we could not have done it without them. We are so lucky!