"Well, I was raised up beneath the shade of a Georgia pine…and that's home you know…". Photographer Tanya of North Carolina wedding photographer MCSWEEN PHOTOGRAPHY may or may not have been singing the Zac Brown Band's song Chicken Fried all weekend for Blaine and Danielle's wedding on her parents' gorgeous pine tree farm in South Georgia. "As a Savannah GA Wedding Photographer, it was great to get out in the country for a family wedding. Their outdoor celebration was a dream. Amongst all the pine trees the two said, "I do" with all their close friends and family around them.
Inspired by her parents property, Danielle had always dreamed of getting married there, in front of the very trees she grew up running around and getting into trouble in. She shares with us, "After months of building our very own wedding venue in the middle of the woods, my dream came true & exceeded every expectation I ever had. Even months later it still feels like a dream."
Danielle got ready in her childhood home on the property before meeting Blaine for their first look amongst the pine trees. Donning her STELLA YORK gown their first look was complete with tears and tender moments just the two of them. After a short ceremony, Blaine and Danielle made their way to a dirt road lined with pecan trees for a few epic sunset photos.Then under a white tent donned with crystal chandeliers the newly wedded couple commenced in dancing and mingling. They drank coffee with their guests from a quaint coffee cart nearby and made their exit amongst a sea of bubbles!
HOW DID YOU MEET? The two of us met in college at Georgia Southern University on December 30th, 2018. We were introduced when a few of my friends were going over to a mutual friend's house to watch a movie where Blaine happened to live. A few months later in March, Blaine decided to ask me out on a date and I said yes then and to many after that.
We fell in love driving late into the summer nights down country roads around my hometown in his little blue convertible. The rest is history!
TELL US ABOUT YOUR PROPOSAL: I had been talking for months about wanting to go to Wormsloe Historic Site in Savannah, Georgia where we both lived. Out of the blue one week in July, Blaine decided we should go visit Wormsloe on Sunday after church. So, Sunday we go to church, have brunch and head to Wormsloe. We drove up to the entrance and got our tickets, but when we started walking, this woman with a camera asked if she could take our picture for her portfolio. Of course, we said yes and the next thing I knew, Blaine was down on his knee looking at me with the most gorgeous ring I had ever seen asking me to marry him. I said yes and jumped to hug him before he could even put the ring on my finger!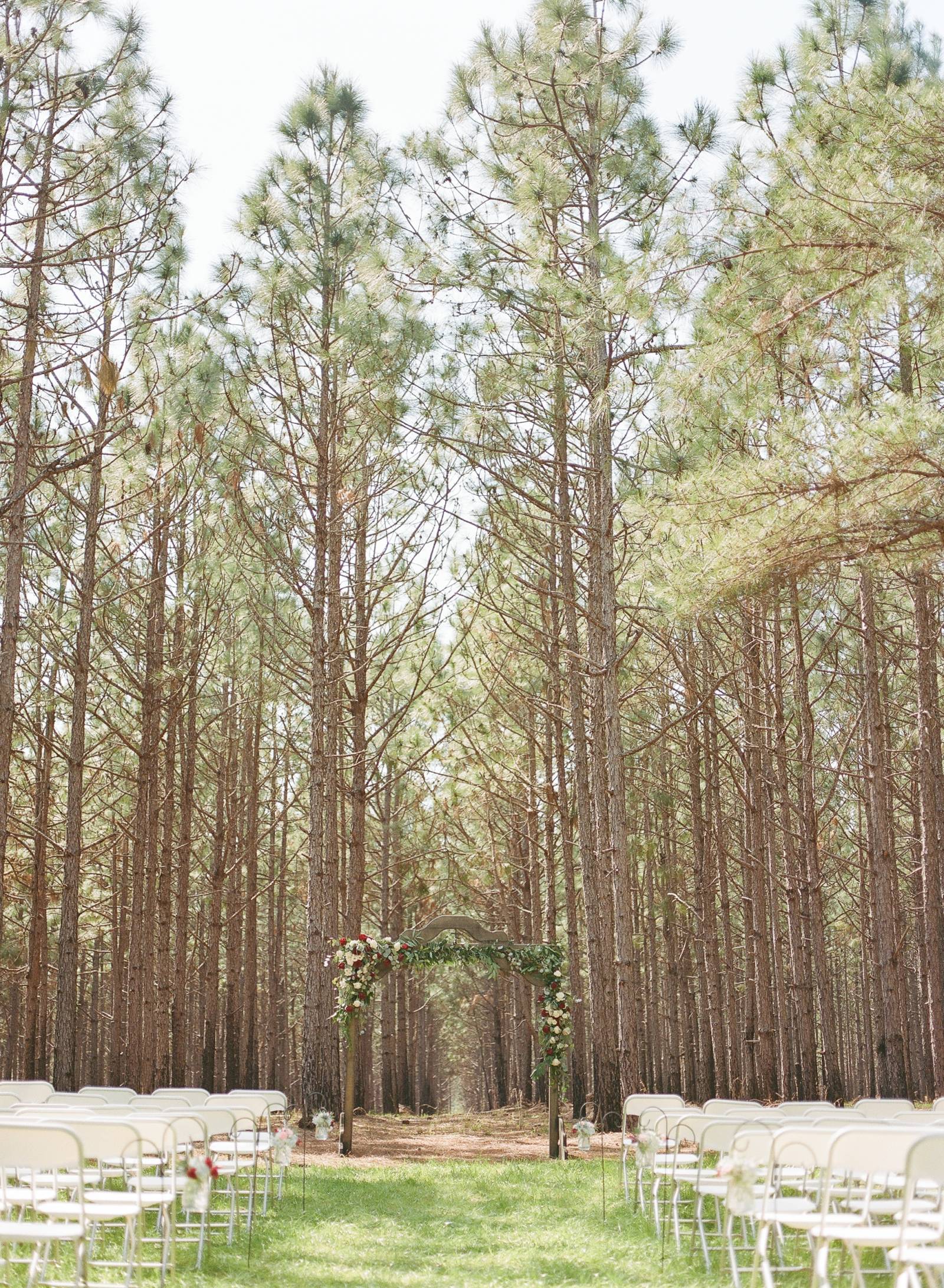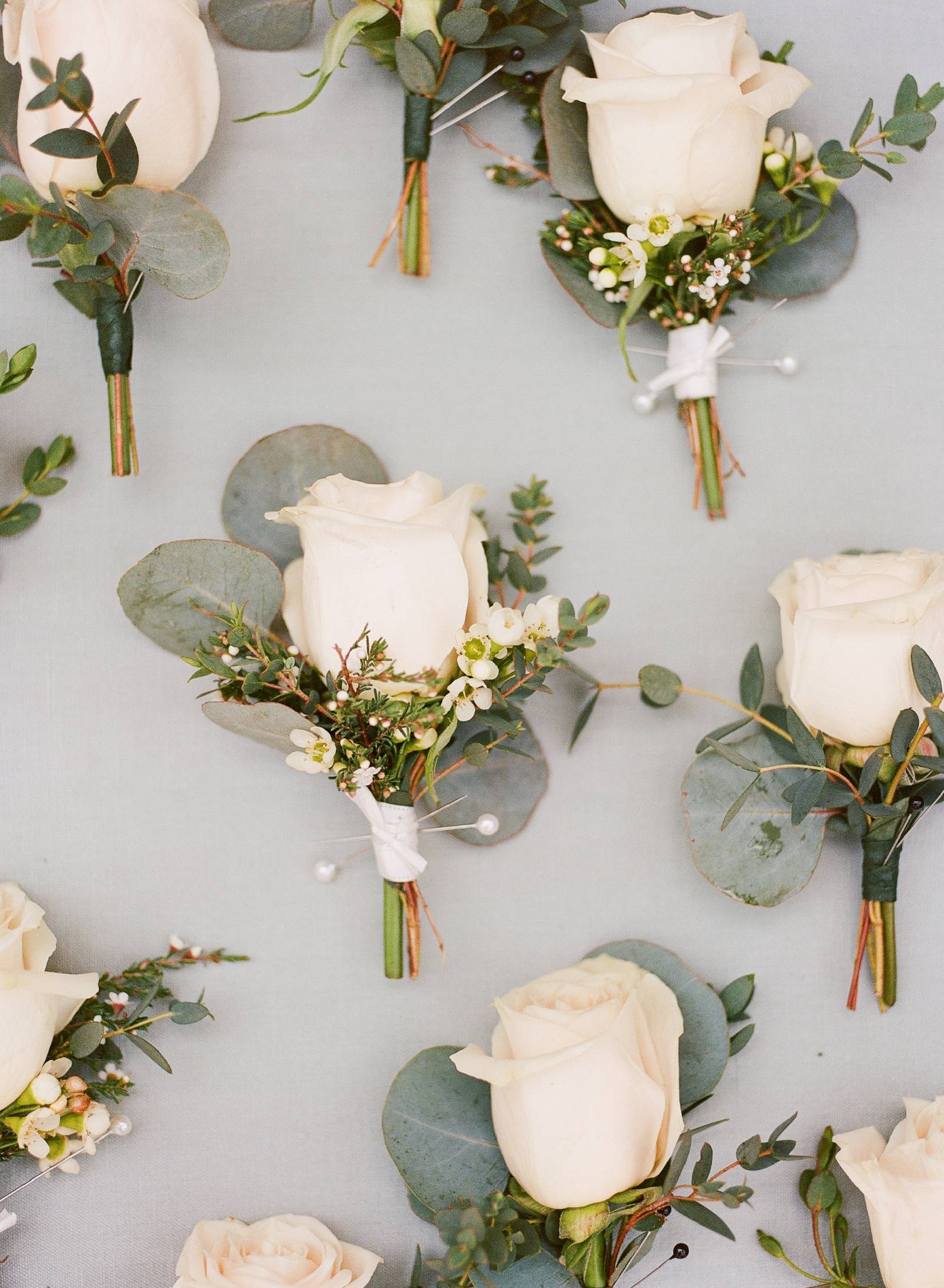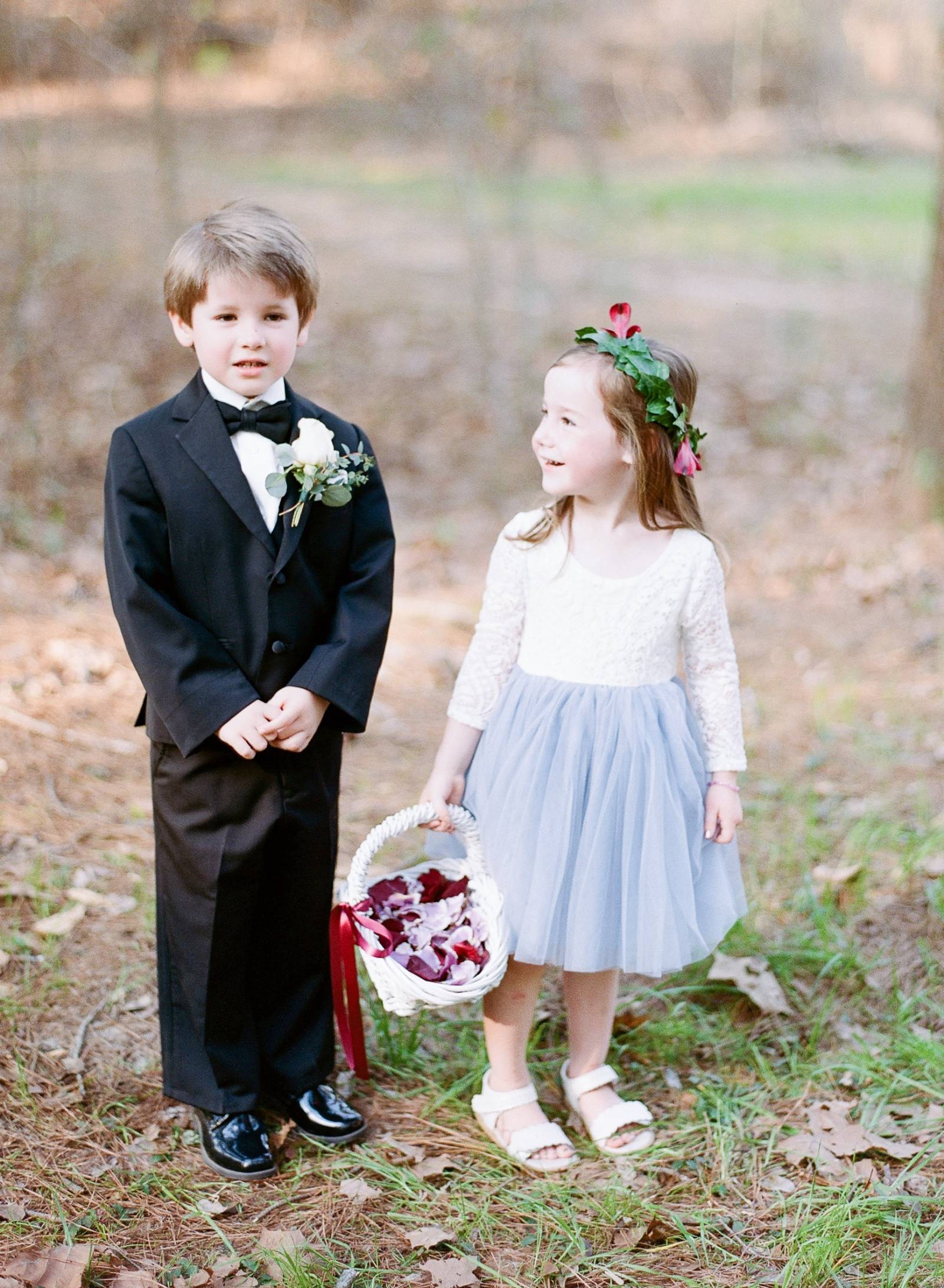 TELL US ABOUT FINDING YOUR WEDDING DRESS/ATTIRE: I thought I knew exactly what kind of wedding dress I wanted but I ended up picking out the exact opposite of what I had imagined in my head. I went to J'aDore Bridal in Brooklet, Georgia and they helped me find the dream dress that I did not even know I wanted. I ended up getting the second dress I tried on, even though I went shopping for dresses multiple times after that and tried on plenty more. The whole time that I was shopping, I could not stop thinking about that second dress - I knew it was the one.
DID YOU HAVE ANY DIY ELEMENTS? Minus the bouquets, the dresses and tuxes, and the tent/catering, our entire wedding was one big DIY project. I grew up on my family's pine tree farm on land that had been in my family for generations, and I had known since a young age I wanted to get married there one day. My parents got married at my grandparents' house, so the idea of getting married at home had always been important to me. I had one specific spot that I knew I wanted the ceremony to be held just a few hundred yards away from the house I grew up in. It was right where the edge of the pine met an open field. The two of us and my whole family spent many weekends clearing out trees and brush, using railroad crossties to build up the low spots so we could bring in loads of dirt to level out the ground, laying sod to create a place where we could put chairs for our guests. The pine trees we framed our ceremony around had coincidentally been planted around the same time I was born. My dad built a beautiful arch that we got married under right in the middle of the pine rows and he also made a handful of benches that he placed around the reception area for the guests to sit on. My mom created all the flower arrangements for the tables' centerpieces and sewed all our wedding favour bags by hand. I thrifted a pair of plain white flats and added lace and tiny pearls to the heel and strap to fit the idea I had in my head for the shoes I wanted to wear. We also had our sister-in-law, who owns the company Bow Addo, hand-make a bow tie for our German Shepherd, Goose, out of the fabric clippings from the bridesmaid's dresses alterations.
FAVOURITE DETAIL OF THE DAY: One of my favourite details of the day was our wedding cake topper. It is a family heirloom of sorts, first used by my grandparents in 1948. Over the course of 73 years and three generations, it has been the wedding cake topper in six family weddings, including my parents' wedding and now ours. Another special detail was a tie tack Blaine wore on his tuxedo - it was his grandfather's tie tack made from the diamond from his grandmother's engagement ring. It was given to his grandfather by his grandmother as an anniversary present and was the perfect thing to have close since both had passed. The only piece of jewellery I wore besides my weddings rings was a necklace that Blaine had gifted me only a few days prior. It was a chain with a single pearl that I had received when I was 4 years old that my parents had always had the intention of making into a piece of jewellery for me when I got older. Blaine got it and took it to the jeweller that crafted my engagement ring and had it made into a meaningful necklace I wore on our wedding day.
WHAT ADVICE WOULD YOU GIVE OUT TO A COUPLE PLANNING THEIR WEDDING? This is your day - do what you want to do and do not feel pressured to simply go with the traditional wedding norms.
Your photographer will probably be one of the most important vendors you choose. Take your time choosing and go with someone you and your significant other feel comfortable with. You will be spending a lot of time working with them leading up to and on your big day. What you get from them will be the most valuable thing that you will have to remember your wedding by for decades to come. So, if there is anywhere to splurge, do it on the photographer.
Make time on your wedding day for just you and your significant other! Whether it is during a first look or a brief moment before the two of you go into the reception, be sure to stop and truly appreciate what is happening. The whole wedding day will go by so incredibly fast; try not to let the first time you are alone together be when you leave.
MOST MEMORABLE MOMENT? There were two that stood out together. Our first look was a very special moment for so many reasons. With all the nerves and stress about the big day, at the last minute we decided to do a first look. It was priceless - getting to have that moment for my husband to see me in my wedding dress for the first time and for the two of us to have a few intimate minutes in the peace and quiet in the middle of the woods. We both were able to take in what was about to happen and reflect on everything that had brought us to that point. The other moment that just stood out to us was during the reception. We were sitting at our table eating and we both looked at each other and realised that all our family and friends, the people whom we love the most, were together in one place. After a long year of isolation and social distancing due to COVID-19, it was surreal. In that moment right there, we felt like the luckiest people in the world.
WHAT ASPECT OF THE WEDDING WAS THE MOST IMPORTANT TO YOU BOTH? We obviously both knew how we felt about each other, else we would not have gotten to where we are now. But standing up there at the ceremony, before the Lord, our family, and our friends, publicly proclaiming our love and commitment to each other is something so meaningful and hard to put into words. Those moments while we were standing up there, it felt as though it was just the two of us – all else had melted away. That time we were up there feels like a brief moment; all we could do was stand there holding each other's hands and each other's gaze.
ANY OTHER DETAILS THAT HELP TELL THE STORY OF YOUR DAY? Our reception was in the middle of a field, under a large tent lit by several dimmed chandeliers and bulb lights. The food was out of this world – classic southern dishes catered by Bevrick's, a small country restaurant located a few towns away. In lieu of a cocktail house, we had a local coffee roaster, Three Tree Coffee Roasters, park their coffee trolly just outside of the tent and the baristas served up all sorts of coffee throughout the evening. For our guestbook, we had a large canvas with two sprawling pine trees sketched across it with our names and wedding date at the bottom; our guests would pick and sign a tree branch. We wanted something very representative of our wedding and that would not get put onto a shelf and seldom pulled down to be looked at, something we could hang on our wall to look at and cherish. Our first dance song was Lover by Taylor Swift; this was important to us for two reasons: the nights that we spent driving every back road we could find were filled with Taylor Swift and shortly after we started dating, she released the single Lover and we both knew the first time we heard it that it would be a song that was always special to us.
TELL US A LITTLE ABOUT YOUR HONEYMOON: Our honeymoon was incredible! We hopped on a plane to the Dominican Republic the day after our wedding and stayed at a wonderful resort in Punta Cana. We got to eat so much incredible food, feed squirrel monkeys while they jumped all over us and, swim with stingrays and nurse sharks. It was a beautiful place to relax and be with each other.
IS THERE ANYTHING YOU WOULD CHANGE OR DO DIFFERENTLY? Our wedding was better than we could ever have imagined, but there is just one thing we would have done differently if we could go back: have videographer film and produce our wedding video. It was not until after the wedding that we realised we should have had a videographer – our wedding day went by so quickly and was such a blur. It would be wonderful to be able to rewatch bits and pieces of that day.
A huge thanks to North Carolina wedding photographer MCSWEEN PHOTOGRAPHY for sharing this beautiful wedding with us. For the McSweens, photographing the lives of their clients is a life-giving job for which they are so thankful! Head over to their portfolio to see more of their work and you should check out this editorial - Explosion of pink in this secret garden wedding inspiration at Old Edwards Inn.