Combining both their religions and cultural family customs this adventurous duo planned a beautiful mountain-side, destination wedding in Colorado. From Jewish traditions like the Horah and the breaking of the glass to other more common traditions like the petal toss and tunnel exit, Heather & David succeeded in beautifully blending both of their heritages. Despite the large wedding party, the event still had an intimate feel and photographer SHANNON VON ESCHEN tells us, "It was so refreshing to be around a group of people that just all wanted to be together."
One of the most fun aspects of their wedding was the PIE BAR that they chose to do in place of a cake - and perfectly fitting with the natural mountain vibe. Their decor was beautiful, but simple, with pops of peach and coral that perfectly complemented the beauty of nature which was the main focus of this wedding. Shannon tells us, "They wanted to feel tiny among the expanses of their surroundings and we tried to capture that as they took walks amidst it - in fields by a lake and atop mountains with endless views! the day of their wedding. Yes a LOT of planning went into making this happen, but I'm happy to report that nothing ran late, even with multiple settings and an extensive, day-of travel timeline.

TELL US A LITTLE ABOUT HOW YOU MET: We first met under twinkly lights while dancing to country tunes at a rooftop bar overlooking the city of Nashville, Tennessee. While we can thank the age of dating applications for our initial introduction, we quickly realised our connection was more than just an initial spark! I had just moved to Nashville to start my nursing career and David was starting medical school at the same hospital system. We were surprised to learn a Colorado girl and die-hard New Jersey boy would share so much in common; like our love for animals, the great outdoors, careers in medicine, and that we like our water with no ice. The next day we met up for a hike around a local lake. We both kept finding excuses to extend our date. Nine hours later, we found ourselves on a pier with our toes in the water watching the sunset. We knew then that this would be the start of a beautiful adventure! Bringing things full circle, David proposed while on a pier at Sprague Lake in Rocky Mountain National Park with a breathtaking view of the Colorado Mountains. My parents live in Denver, but he surprised me with an undercover operation and had his family fly across the country to celebrate with us!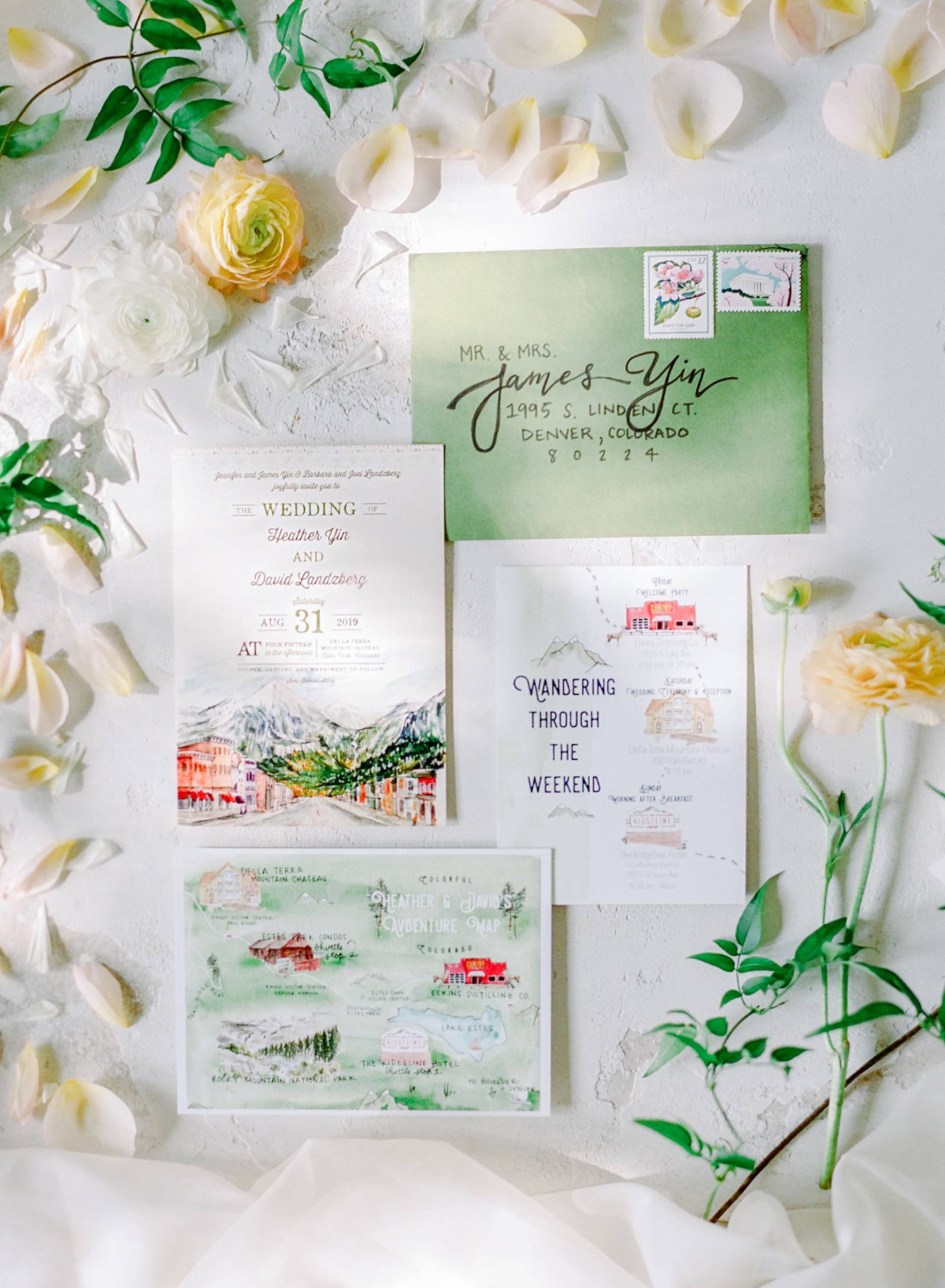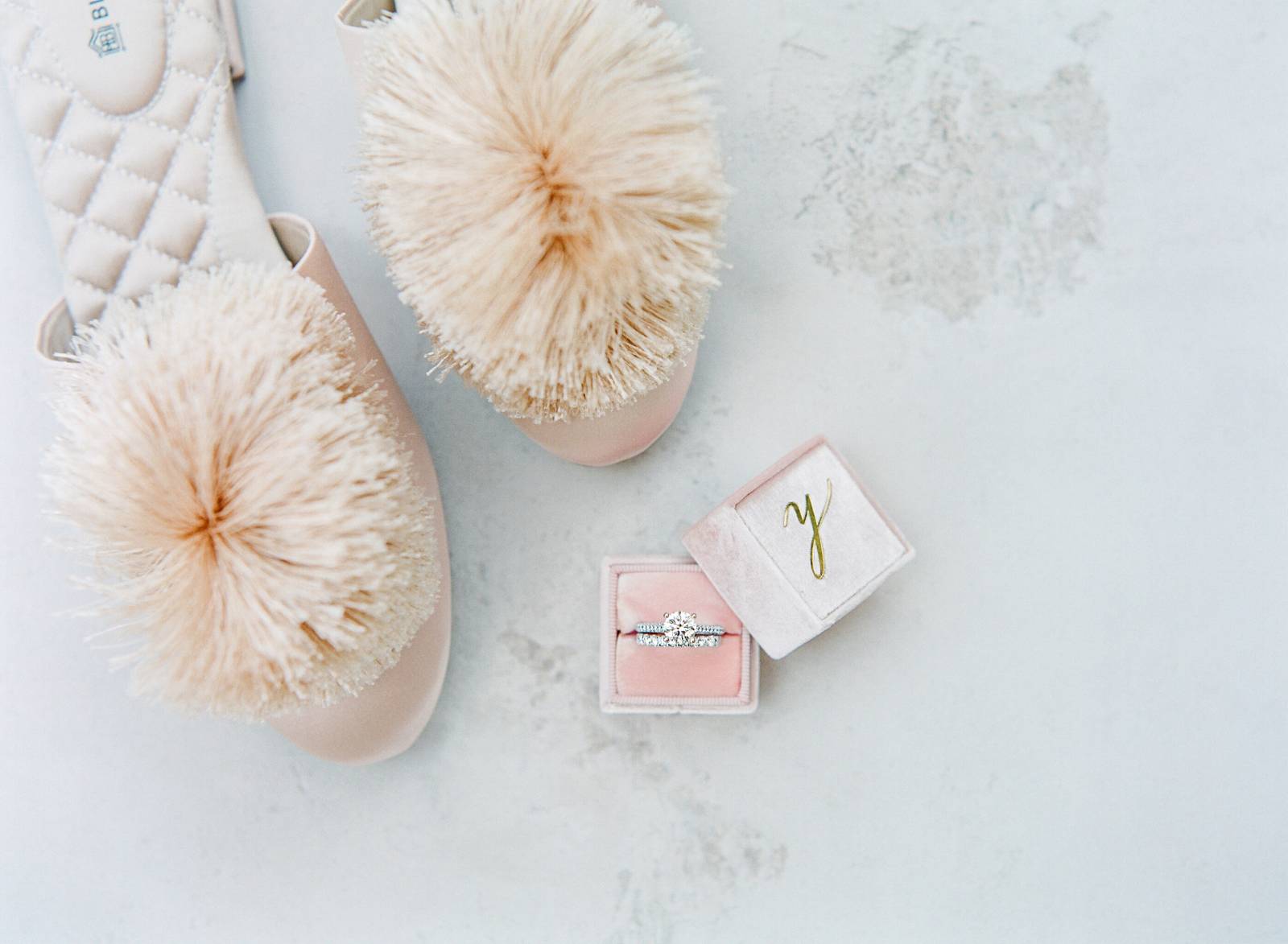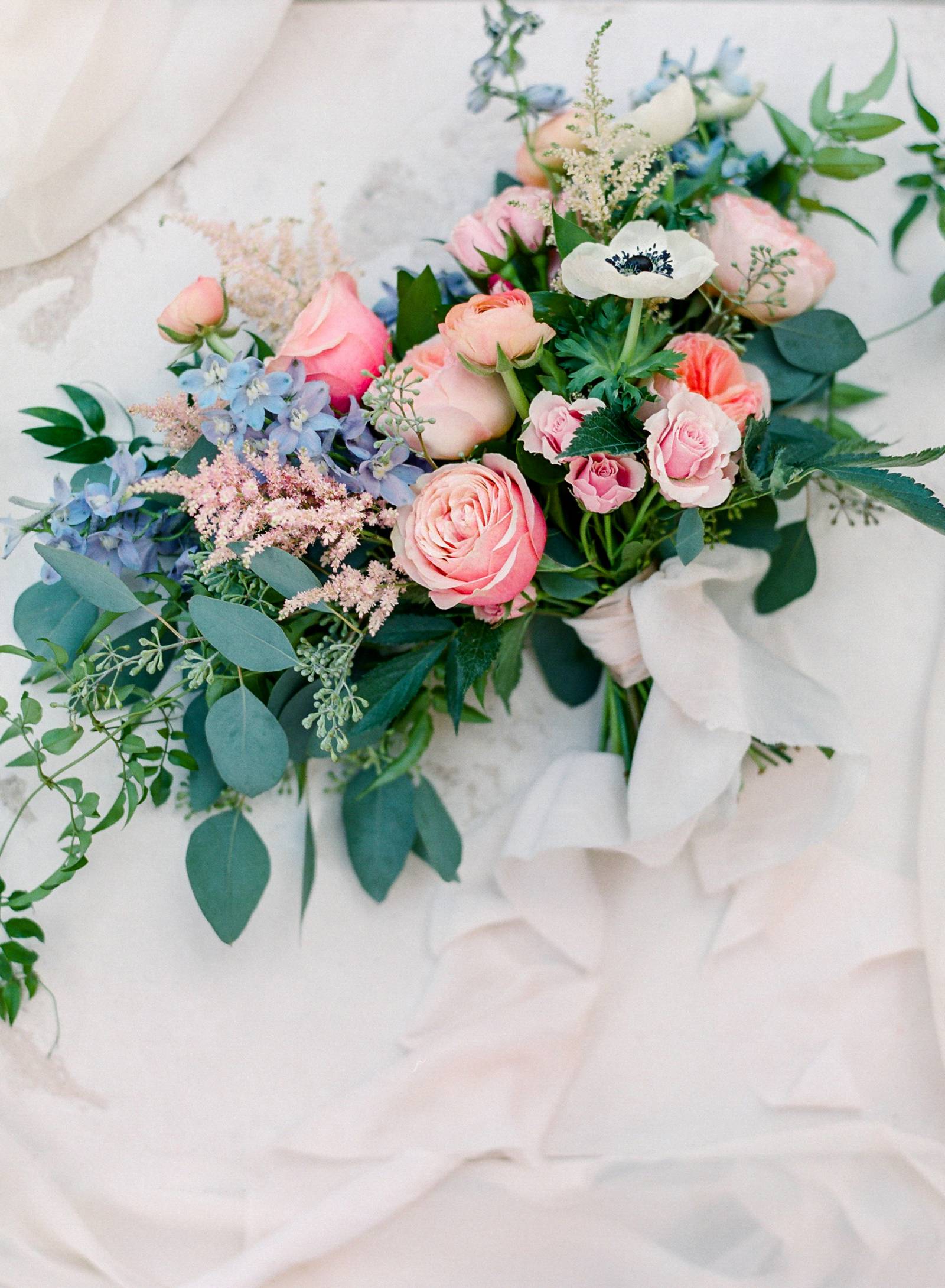 INSPIRED BY: We wanted our wedding to be whimsical, light, and natural. Most of all, we wanted our wedding to represent our unique personalities and be a fusion of both of our backgrounds. David was raised both Christian and Jewish, while I was raised in an Asian-American household. Being born and raised in Colorado, I have a deep love for the Centennial State! With the majority of our guests flying out to Colorado, we wanted to showcase the beauty of the state and celebrate the local flair. We wanted to let the naturally beautiful scenery speak for itself, similarly our colour palette followed suit with a range of greens, peach, pink, and slate blue with a pop of gold! We featured local Estes Park vendors whenever possible.
TELL US A BIT ABOUT YOUR DAY: Our wedding day was a real-life dream! It was a beautiful summer day on Labour Day Weekend. Our outdoor ceremony was tucked into the wooded forests and was surrounded by quaking aspen trees, evergreens, and mountain views. Fusing our backgrounds and cultures into our wedding was important to us. We chose unique features from both of our cultures that held special meaning to us. Our ceremony was not entirely traditional, but represented us in the best way. With the importance of family, we ensured both of our parents walked us down the aisle and we chose David's eldest sister to officiate our ceremony.

The traditional Chuppah in Jewish weddings holds beautiful symbolism – for us, our gazebo represented the importance of a home being found in the people and not possessions. While the four open sides signified our commitment to welcoming
friends and family. We included the breaking of the glass as it symbolised the fragility of marriage, the finality of the wedding covenant, as well as the need to continually show love and respect to one another to strengthen our bond. Hearing our guests shout, "Mazel Tov" afterwards was the best ending to our ceremony! The Hora was something David had dreamed of doing since a young boy. He had always participated in hoisting the chairs at his cousins Bar and Bat Mitzvah's and loved the energy of it. Our Hora included music from Fiddler on the Roof, which was one of our favourite Broadway plays.
We included Asian-inspired food during our cocktail hour, like shitake mushroom bao buns, miso-glazed meatballs, and a variety of seafood. Besides the nod to my Asian heritage, we also featured our favourite foods like pigs in a blanket and lamb lollipops. Locally inspired, we presented eats and drinks like Bison Flatbread Pizza appetisers, Colorado Rainbow Trout entrees, and craft cocktails made with Elkins Whiskey (our favourite mountain whiskey distiller!) Instead of a wedding cake, we opted for a pie bar featuring seventeen different pie flavours made with fresh seasonal fruit or custards. Our wedding pie was Mango Key Lime (two of our favourite things!)
What made the day extra memorable were the minor imperfections, like a bee stinging me while I was holding my bouquet during our couple portraits or having a glass of red wine spilled on my wedding dress during dinner. However, I would not change a thing! The day was filled with unforgettable memories and our favourite people. We felt unbelievably loved and it is a day we will never forget!
WHAT WERE YOUR FAVOURITE DETAILS OF THE DAY: Many of the details of our wedding day had strong significance to us and seeing everything come to life was magical. While many people like to say that details get overlooked, we felt as though it made our wedding extra personalised and we enjoyed creating the little elements!
The night before the wedding, we hosted a casual Welcome Dinner for all of our guests at a local whiskey distillery called Elkins Distilling Co. We had an outdoor camp vibe including fire pits, unique craft cocktails, and Indian food (one of our favourite cuisines!). We loved welcoming our guests to our favourite mountain town and it set the atmosphere for the whole weekend.
Depicting our love for the outdoors, our table "numbers" were custom cut mountains crafted from wood, featuring our favourite trails and hikes from around the world.

We love tasting different varieties of honey and consider ourselves honey enthusiasts. Our hand-poured honey jars were a sticky labor of love but were the perfect wedding favour. We filled the little glass jars with Colorado Wildflower honey and custom stickers with our names and the phrase "Meant to Bee!" Heather's father built two sets of corn hole boards and Heather hand-painted] them. One set illustrated the Colorado flag and a popular Colorado welcome sign. The other set was painted with our initials and a short quote. We hand-dyed our cheesecloth table runners a beautiful grey blue to harmonise our mismatched vintage brass candlesticks paired with slate blue taper candles.

One of our favourite details were our custom acrylic wedding signs, which were back-painted with an ethereal blue colour. We chose our favourite quotes to use in our welcome signage, like "You make my heart go pitter-patter!" We have loved re-using them and display them as artwork in our home. We chose to do an Aspen tree unity ceremony where we planted it in dirt from both of our childhood homes. We loved that our tree was planted on the grounds of Della Terra with a little sign including our names and wedding date so we may visit it when we go back!

We love snuggling on the couch with big blankets when we are at home, so we chose an Etsy vendor to create a unique quilt guestbook for us. We chose fabrics that were meaningful to us and had guests sign and draw on the pre-cut quilt squares. After the wedding, we sent our quilt squares back to the vendor to sew together, which will become our first family heirloom. We love that it is both functional and meaningful.
FAVOURITE MEMORIES: David's favourite memories include: playing spikeball with his groomsmen before getting ready for the day, seeing his grandmother walking down the aisle as a flower girl with her granddaughters, being surrounded by the deer and wild turkeys that crashed our wedding ceremony, and holding each other's hands during the rambunctious Hora!
Heather's favourite memories include: walking together in the meadow of Rocky Mountain National Park for couple portraits, the flower petal throw with our guests directly after the ceremony, mingling with our guests during cocktail hour, and dancing to some of our favourite country songs.