After so many changes due to the pandemic - from changing their venue just weeks before to vendors having covid scares and everything being far from what they planned - Estefanie and Griffin finally celebrated their precious wedding day at CHENAL COUNTRY CLUB. Captured by Arkansas wedding photographer ERIN WILSON, this gorgeous couples wedding style was modern and classic with a black and white colour palette. Erin tells us, "Estefanie is from Venezuela and one of the sweetest parts of the day is when Griffin learned a song in Spanish and sang and performed it to her during the reception as a surprise. It was so fun!"
WHAT WAS THE INSPIRATION BEHIND YOUR WEDDING? Our wedding style was timeless elegance with personal touches. From day one of planning, we knew we wanted to incorporate classic colour pairings like black, white and gold. Our paper suite and event day details were in that same colour scheme. I wore a simple white satin gown, my bridesmaids wore black gowns in various styles, while Griffin and the groomsmen wore traditional black and white tuxedos with bowties. The reception was filled with lots of romantic candlelight, lush white florals and crystal candelabras to create an intimate feel.
As for the personal touches, we wanted to honour our unique cultural backgrounds (Griffin is from Arkansas and I'm from Venezuela) by including English-Spanish elements throughout the wedding celebration - all the stationery elements were bilingual. Our menu had an Italian influence to it, to remind us of the time we spent in Europe and where we became friends. We also ensured our DJ played our favourite American music as well as Latino.
WHY DID YOU CHOOSE THIS LOCATION: We chose to have a church ceremony at Griffin's home church, Immanuel Baptist Church, and a reception at a separate location. Due to the pandemic we found ourselves booking a new reception venue a month before the wedding. As a precaution my MIL had placed a hold at Chenal Country Club a few weeks before. She is so wise! Luckily, we were able to keep our date and ceremony the same and our new venue turned out to be the perfect place to host our reception. We think it all worked out for the best in the end.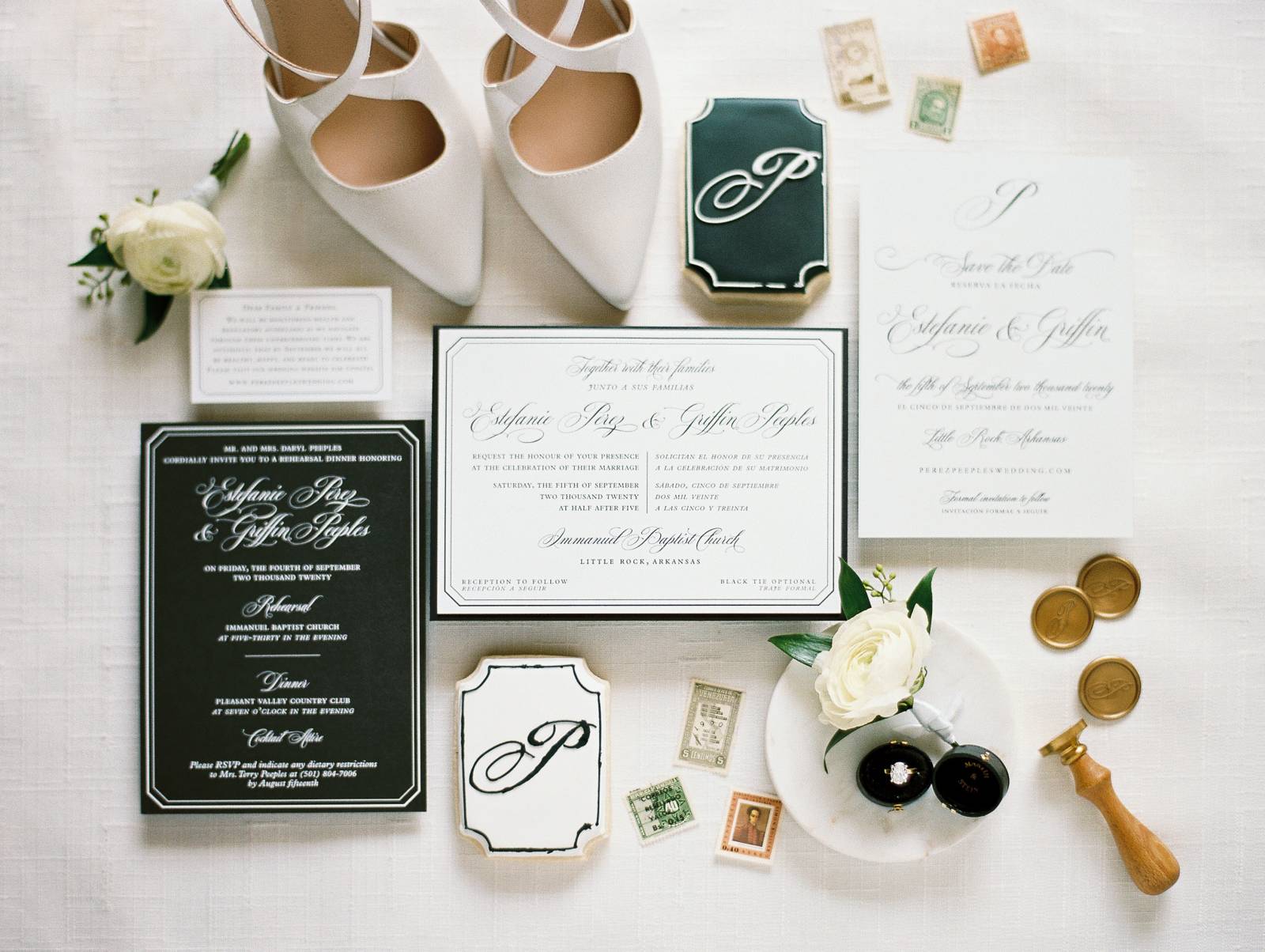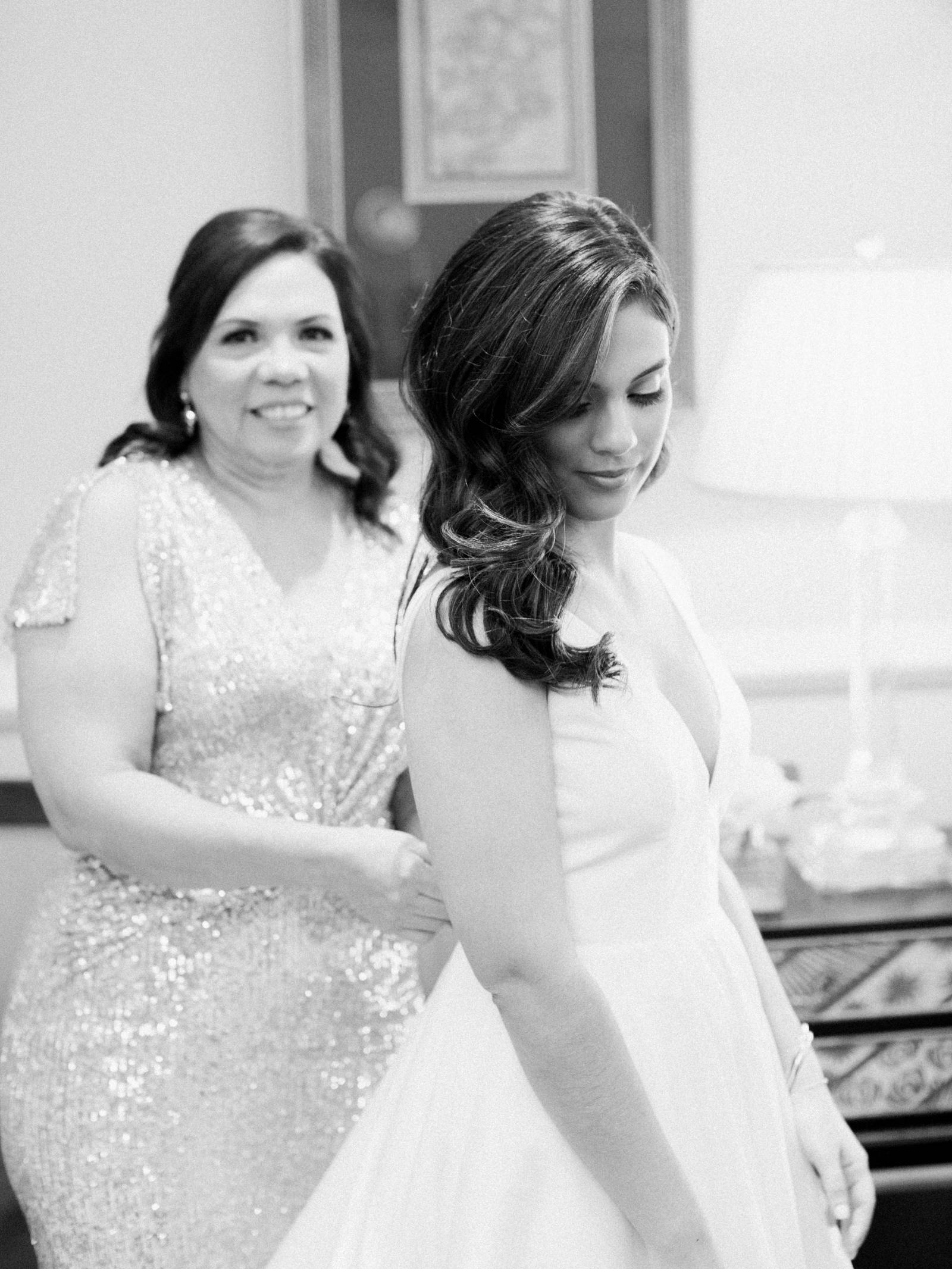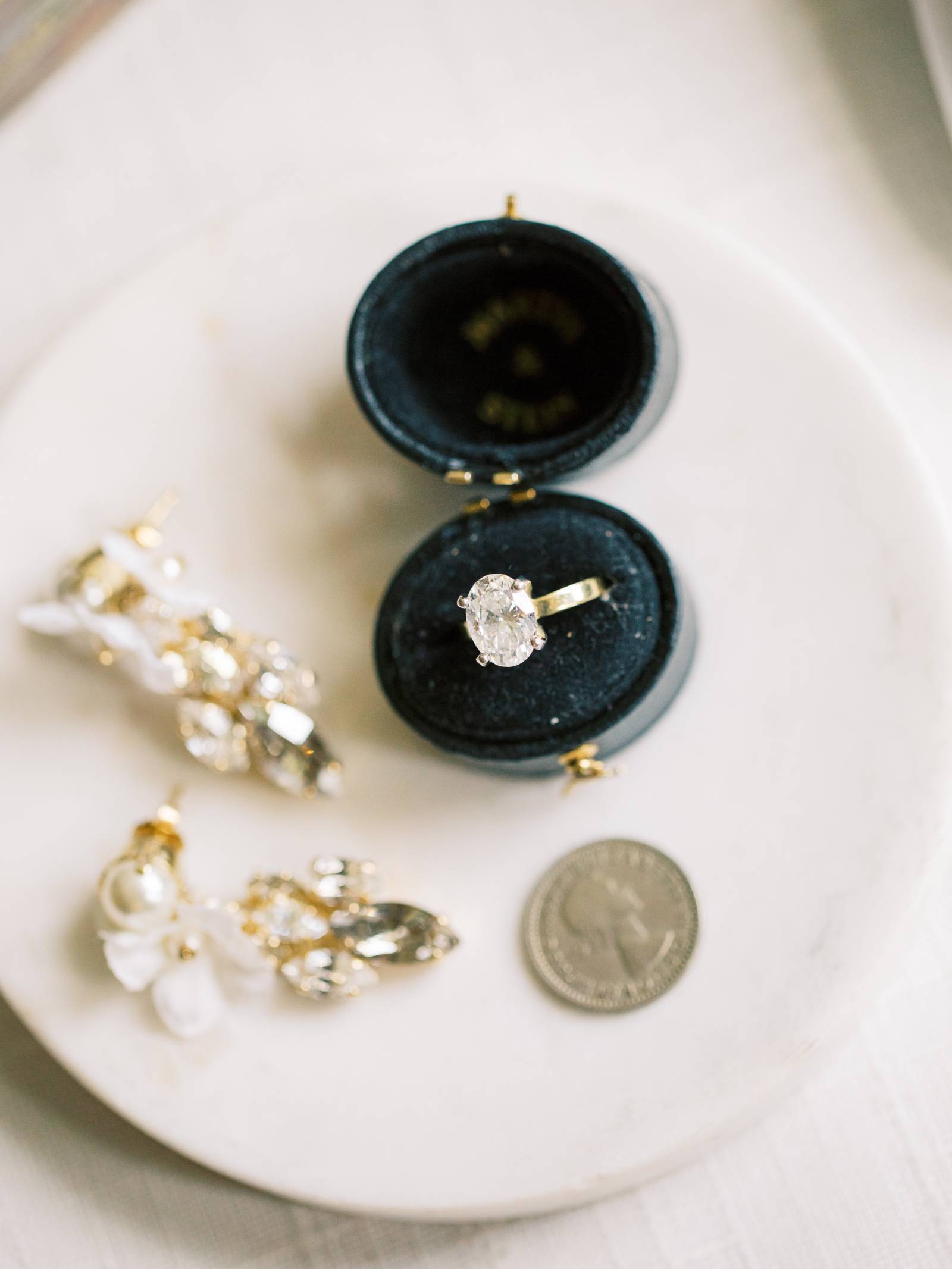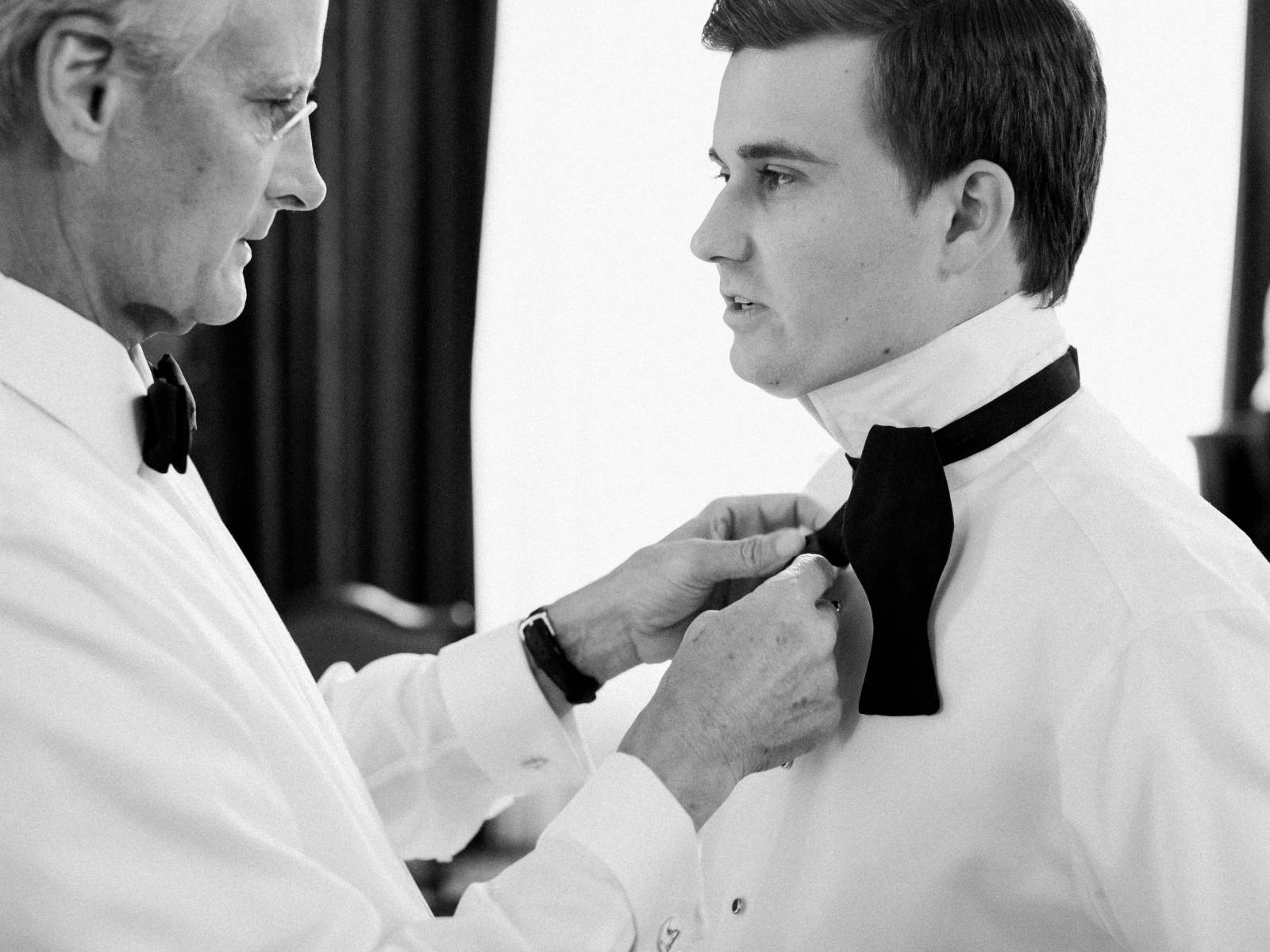 TELL US ABOUT YOUR PROPOSAL: (From Griffin's perspective) After four years of dating and finally figuring out my career path, I knew it was time to go ahead and secure my relationship with Estefanie. So in the fall of my second year of law school, I went to the local jewellery story and picked out the perfect ring for the perfect girl. I also prepared a grandiose proposal video for Estefanie to "Marry Me" by Jason Derulo. I did some classic Griffen dance moves and collected videos from our friends and family convincing her to say yes. I knew her family would be in Little Rock over Christmas, so it would be the perfect time to pop the question. On January 5, 2019, I shared with her the video, prompting her to come to The Old Mill because I had a question to ask her (at this point, she knew what it was). She walked down the pathway, looking gorgeous, I read her a Bible passage, popped the question, and then she said yes.
TELL US ABOUT FINDING YOUR WEDDING DRESS: I had been searching online for dresses since before we got engaged. There was one dress that I always went back to as a favourite. Right after our engagement, I made an appointment at the store in Georgetown while visiting my fiancé. The minute I put on that dress I knew it was the one. Designed by Jenny Yoo for BHLDN it was a satin gown featuring a deep v-neckline and a strappy open back accented with angular illusion panels. The full A-line skirt extends into a sweeping train. It is fitted at the bust and waist, and loose at the hip. I chose not to wear a veil and instead I wore a long tulle cape with a high neck lace detail during the ceremony. I've never felt more elegant and beautiful. It was the most flattering dress I've ever worn... and it had pockets!
DESCRIBE YOUR WEDDING FLOWERS: Our wedding florals were white with minimal greenery. Our arrangements and bouquets featured hydrangeas, garden roses, tulips, delphinium, stock, and orchids - all in white. Guest tables were full of lush florals in tight clusters, tall arrangements anchoring the room, and lush flat lay compotes.
FAVOURITE DETAIL OF THE DAY: We didn't know we wanted a custom dance floor but we're so thankful we decided to do it. It elevated our wedding space to another level and made such a statement in the room. It was also the perfect stage for Griffin's serenade and dance moves. The white marble and gold design was unique and blended perfectly with the rest of the decor.
WHAT ADVICE WOULD YOU GIVE OUT TO A COUPLE PLANNING THEIR WEDDING? I would advise any couple planning their wedding to enjoy the process and remember that whatever happens, marriage is the most important thing.
MOST MEMORABLE MOMENT? The most memorable moment of the wedding was no doubt Griffin's surprise serenade in Spanish. We were dancing at the reception when all of a sudden Anne-Claire, our wedding planner, brings a chair to the centre of the dance floor. I freaked out because I thought we were going to do a garter toss (something I wasn't planning to do) but then Griffin comes out with a mic and DJ Jellybean, says, "We have a special performance from the groom, Marc Anthony has entered the room" and then Griffin started singing in Spanish one of my favourite songs called "Tu Vida En La Mia." He also showed some pretty great dance moves. It was the best surprise and the perfect way to highlight both of our cultures. Our family and friends loved it too.
TELL US A LITTLE ABOUT YOUR HONEYMOON: We were planning to go to Maui and San Francisco for our honeymoon. We had tonnes of activities planned and excursions booked. Unfortunately we had to change our plans due to the pandemic, just a few weeks before departure. We decided to go to Marco Island in Florida instead. This is actually the same place Griffin's parents went on their honeymoon and they loved it. We stayed at the JW Marriot Marco Island Beach Resort in the adults only building, with its own private pool and beach section. We were upgraded to a corner suite with the most amazing balcony and view - a real treat after a long season of wedding planning and changes. We didn't have time to plan any activities ahead of time so we booked massages every other day for the ultimate relaxation. Our honeymoon change of plans was another example of things working out for the best as we had more time to relax and focus on our marriage.
IS THERE ANYTHING YOU WOULD CHANGE OR DO DIFFERENTLY? No, Griffin and I had the most perfect wedding celebration with our family and friends. Although plans changed quite a few times, we were able to watch God work his perfect plan for our lives and use some special people to piece together the best day. We felt so loved by each person that was part of this process. We received so much kindness, generosity and love from so many people that went above and beyond to help us enjoy our wedding.
A huge thanks to Arkansas wedding photographer ERIN WILSON for sharing this stunning wedding with us. Erin is known for her dreamy wedding photography and loves to serve others by encouraging their creative sides, reminding them how beautiful they are and being as positive and calm in wild situations. "I am extremely passionate about people, art and love. I photograph weddings on film and digital and very inspired by timeliness images that have a little artful vibe." You can see more of Erin's portfolio in our VENDOR GUIDE and you may also want to check out this Stunning Italian garden wedding inspiration.