With the bride being a floral designer herself, it was a given that flowers would take centre stage at this absolutely gorgeous micro-wedding captured by MELANIE OSORIO PHOTOGRAPHY at CASA ROMANTICA in San Clemente, California. With planning by RUFFLE EFFECT, the details were full of thought and intention, weaving colour, texture, and flowers into every element. Rose wore a custom-designed wedding dress by Spanish brand BEBA'S CLOSET which was inspired by her love of flowers. The day began at her parent's house in a backyard full of Bougainvillea. The couple had adopted an adorable pug Hobie on their original wedding date (which had to be postponed due to Covid) and as guest of honour he wore a custom scarf and was adorably included in the bride's getting ready photos.
The couple exchanged vows overlooking the Pacific Ocean in front of their closest friends and family. During the ceremony, they had family members present flowers that symbolised traits and characteristics that they wanted to carry into our marriage. Afterward, they celebrated with an alfresco dinner under the stars and each table was delicately adorned with stunning flowers and custom Spanish tiles - a gift to their guests.
The gorgeous bride shares with us, "Despite the pandemic altering our original wedding plans, we were able to still have our dream wedding, just a scaled-back version, with our closest friends and family. Our original wedding was set to happen in May 2020. In early March we realised we needed to postpone our 140 person wedding. We had been together for eight years and even had a long engagement so we knew we wanted to get married this year no matter what. We ended up choosing a new date in late October at a different venue, one that we had also originally considered. We're so happy we ended up at CASA ROMANTICA - it has an unbeatable ocean backdrop with gorgeous Spanish-style details and lush gardens. I love the private and intimate feel of it - it was perfect for our smaller guest count.
Changing venues also meant that I could now get ready at my parent's house down the street in San Clemente. It was so special getting ready in their backyard with my best friends and our newest addition to the family, our pug Hobie. Fun fact - we adopted Hobie on our original wedding date! Henry and I met in high school but we didn't start dating until college and have been together ever since. Henry proposed on a hike right before we moved to Berlin, Germany for a year. Henry surprised me with a gorgeous canary diamond ring. The diamond is a century-old family heirloom, originally cut in Paris (I had no knowledge of this before!)."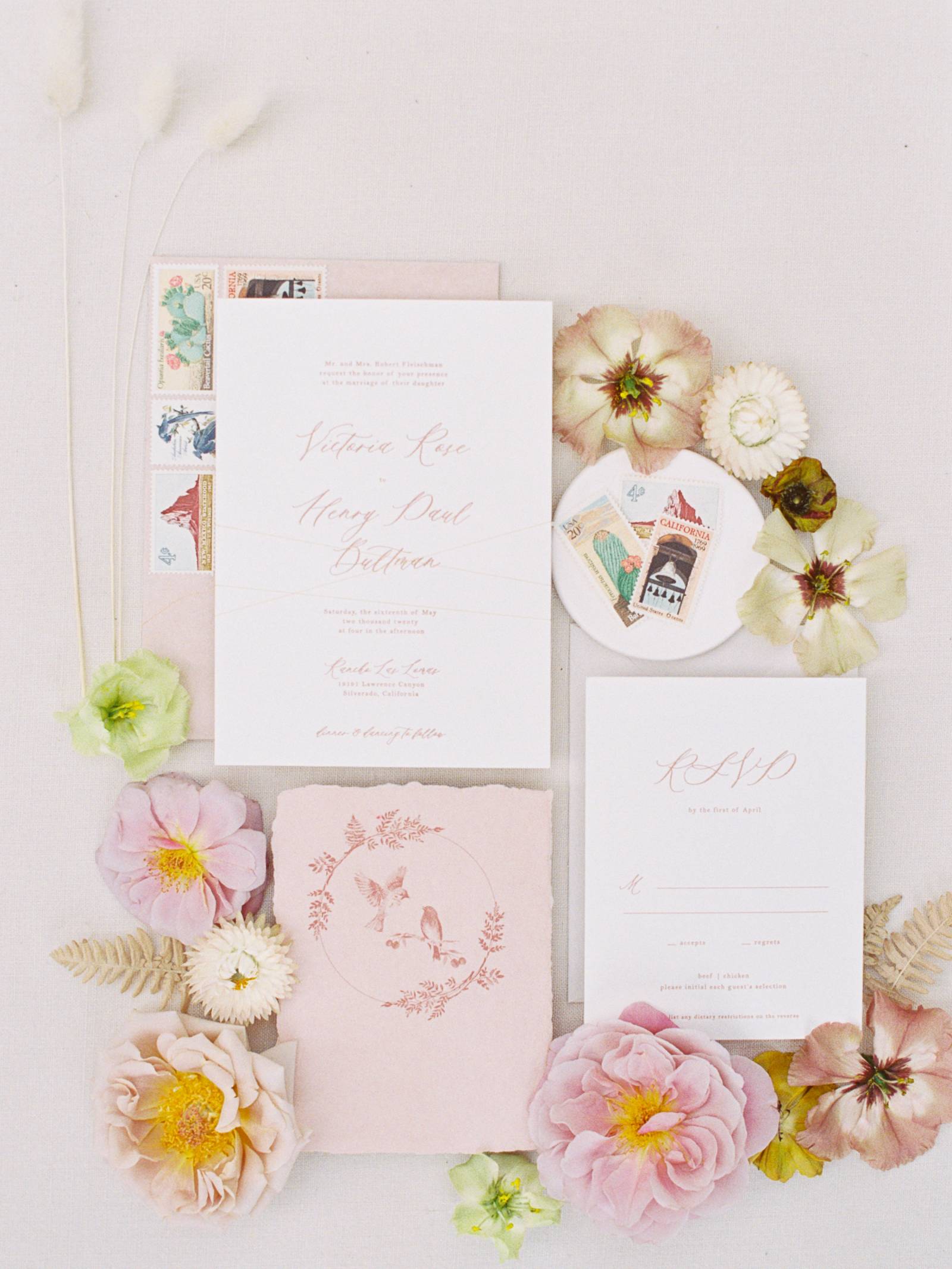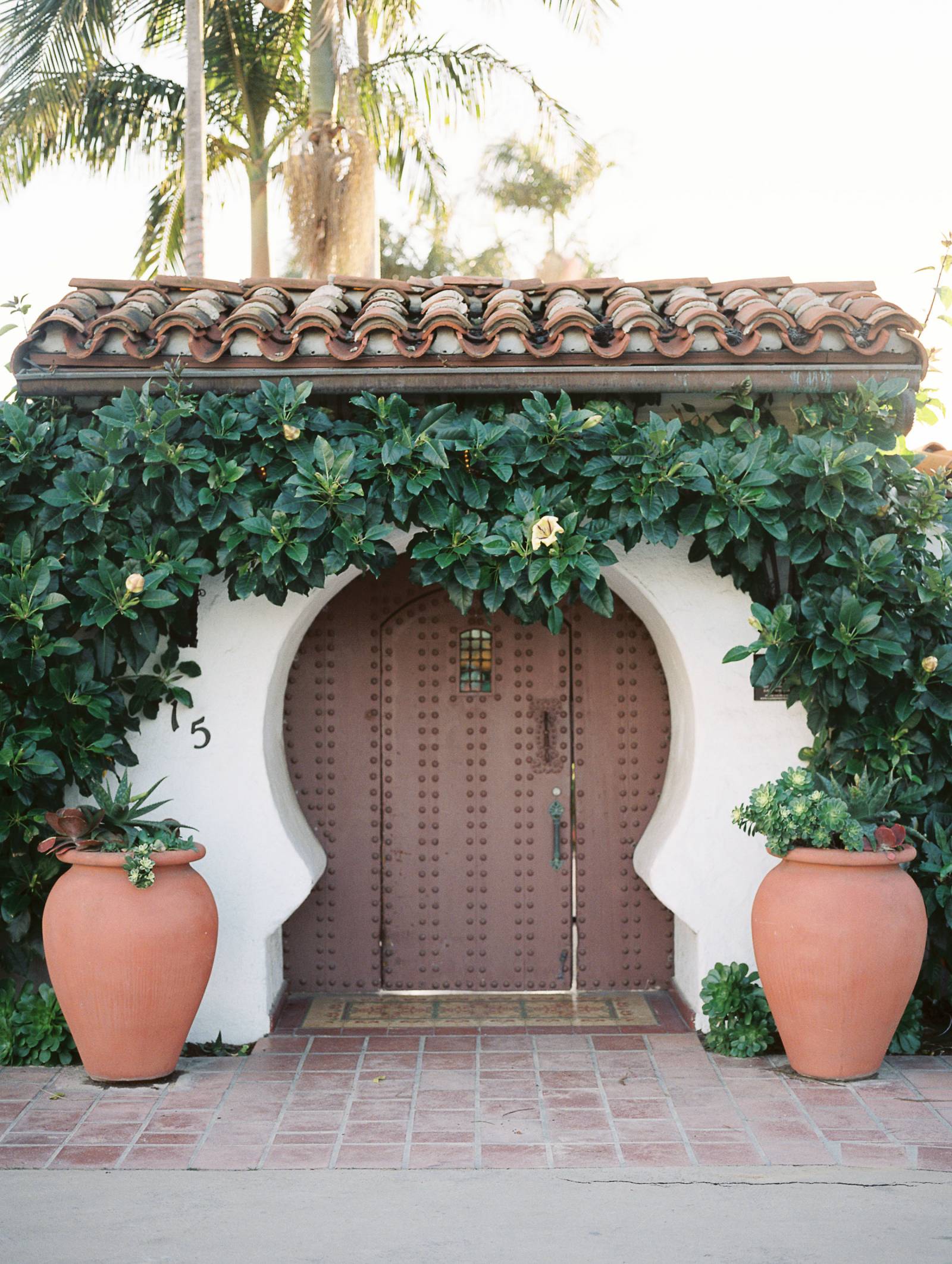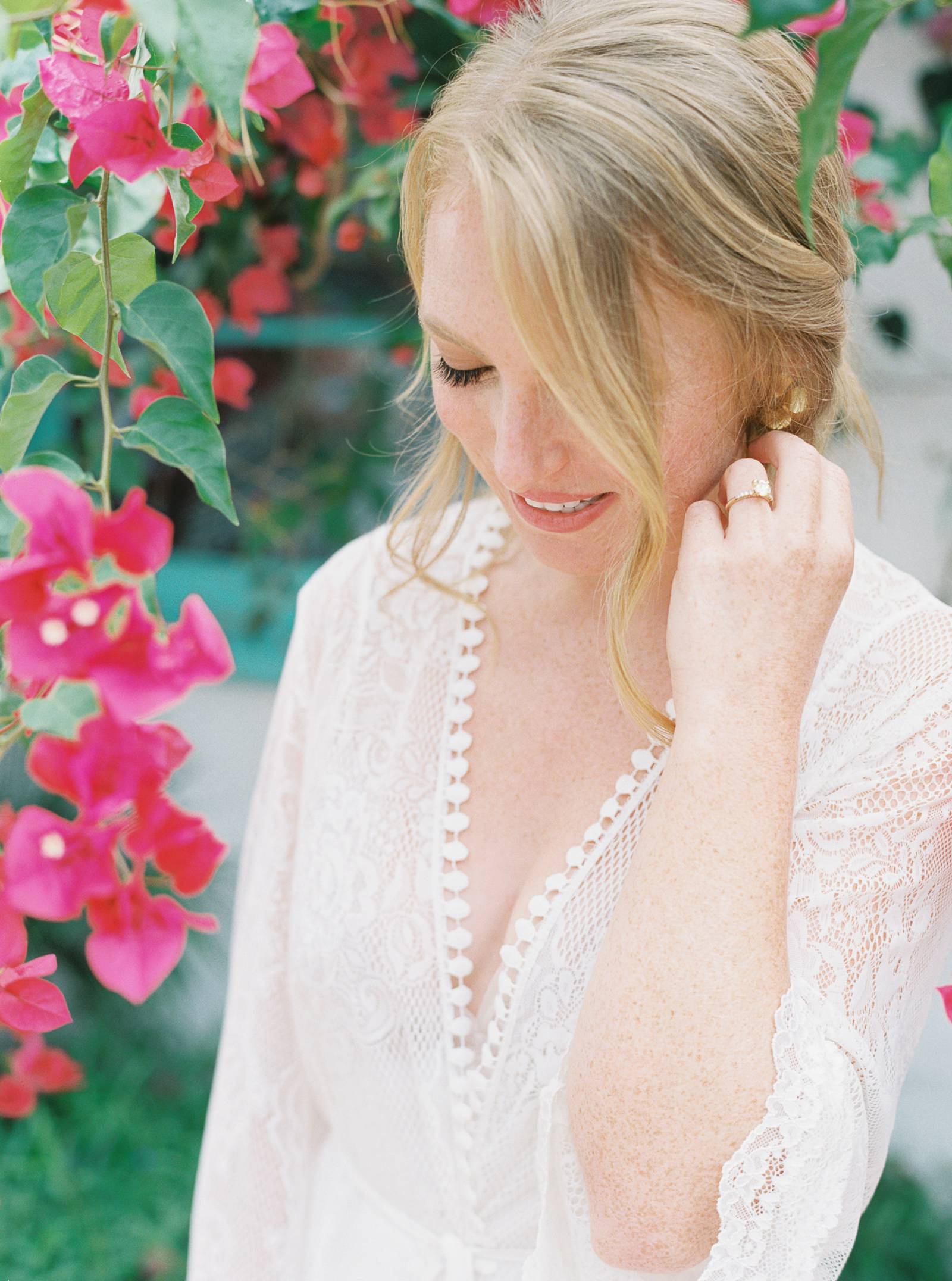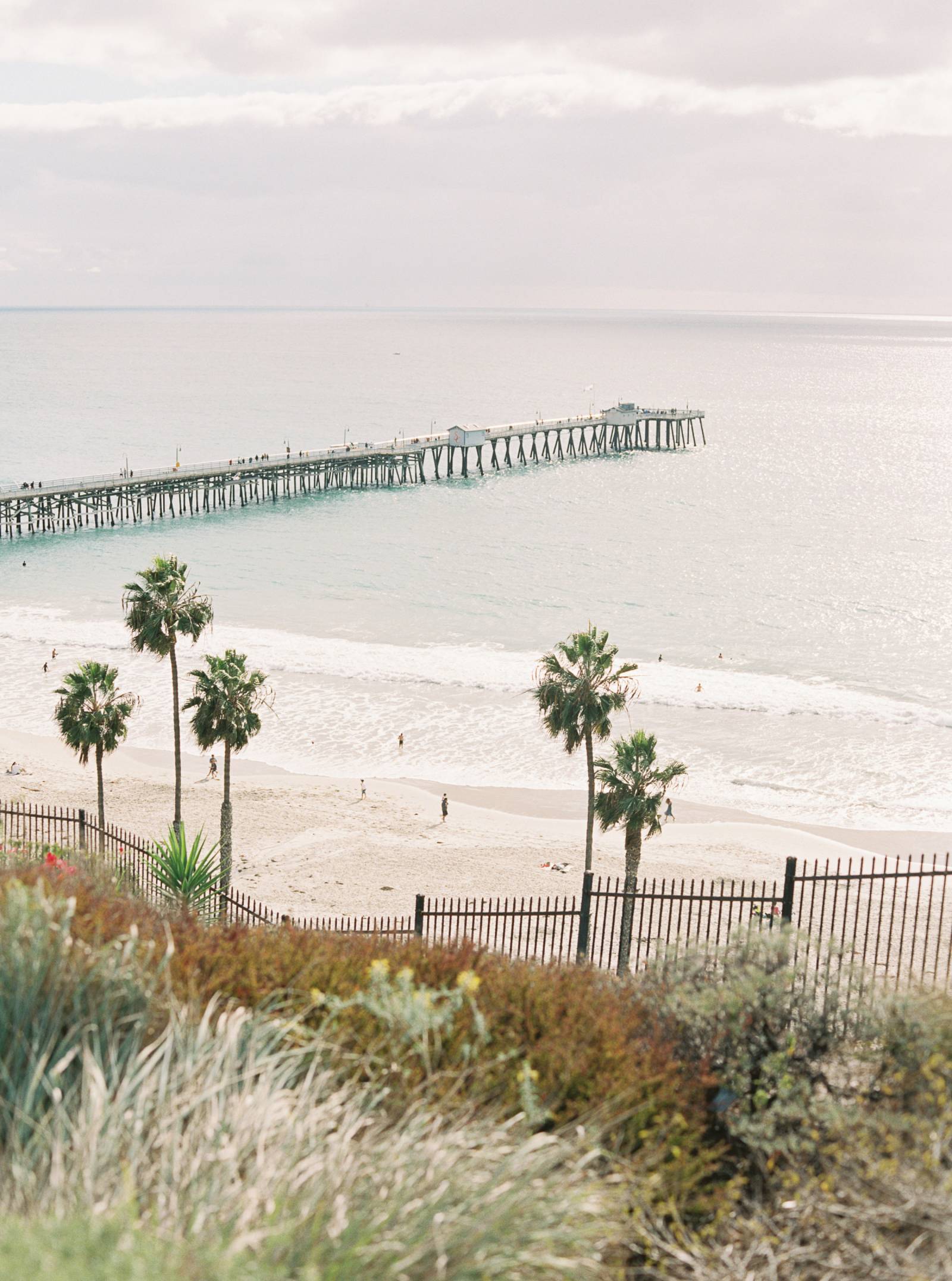 As a floral designer in the wedding industry, I had been planning my wedding for years in my mind. I already knew exactly what flowers, colours, and details I wanted. I envisioned the wedding to be elegant, classy, and a little boho, to match the Spanish style of the venue. My friend, Cara from UNDERWOOD LETTERPRESS, created our invitations on hand-made paper. The invites featured a custom bird drawing inspired by the Spanish tiles at the venue, a map of the area for our guests, and unique vintage stamps. My dear florist friends, Anna from LOOP FLOWERS and Alexandra of RITO-ITO, brought my vision to life and created my dream flowers. I couldn't help but cry when they showed me my bouquet - it was a really special moment and such a long time coming! The tables were set with rose velvet napkins, Spanish tile place cards, gold flatware, and a combination of terra cotta and vintage brass vases for the flowers.
My dress was nothing like I had originally imagined I'd wear, but I think that's why I loved it so much. I tried on wedding dresses for the first time while living in Berlin and ended up meeting a Spanish designer, BEBA'S CLOSET, who designed a custom dress for me. My favourite part of the dress was the coloured beading and the low back with a removable train that I wore for the ceremony. The rust, marigold, and light blue beading inspired my overall colour palette for the wedding. Our wedding and all of the details felt more fall-ish, to begin with, so I didn't have to change much moving from a spring to a fall wedding.
Our ceremony was probably the highlight of the day for us. It was really personal and emotional - I think everyone was in tears! Henry and I didn't do a first look because we wanted to see each other for the first time at the altar. My cousin sang Frank Ocean's version of Moon River as I walked down the aisle and my brother and sister-in-law officiated us. It was so special having our family so involved.
In the end, our wedding day was perfect for us and we loved how intimate it was. We were able to spend quality time with everyone that was there, which was so special after not having seen anyone for what felt like so long. It even rained throughout the day, which I refused to let bring me down. The occasional showers and a break for sun just as the ceremony started made for some pretty unforgettable moments."