Hannah & Paul dreamed of a mid-September wedding that had the feel of an elevated garden party at sundown. "I spent nearly a decade of my childhood living in Ireland, and while there I feel in love with the understated sophistication of European weddings. Drawing inspiration from the colours and textures of nature, i was enamoured by the warm energy of an Irish wedding celebration, and its imperfect yet polished aesthetic."
Captured by North Carolina wedding photographer JAMIE VINSON, the couple enlisted the help of wedding planner EMILY IZAKOWITZ to achieve their vision. They worked with BOWERBIRD FLOWERS to create abundant arrangements of bright white sweet peas, soft yellow roses, and lush green ferns. "Our florals were scattered organically along beautiful tablescapes designed by AMERICAN PARTY RENTALS to showcase an eclectic mix of rich green, blue, and pops of gold. Whimsical lounge furniture and glassware from GREENHOUSE PICKER SISTERS was the perfect complement to our open-air courtyard and sun-soaked dining hall space.
For the reception dinner, we wanted the food to feel welcoming and familiar. THE CATERING COMPANY OF CHAPEL HILL prepared a delicious meal inspired by summer flavours from the garden. Blistered cherry tomatoes, grilled corn, and juicy artichoke championed a meal that felt elevated yet approachable. A 4-tiered masterpiece from ASHLEY CAKES was an indulgent finale, and its three flavours offered flexibility for the indecisive guest. Later on, to honour Paul's Philadelphia and New Jersey roots, SWEETWATER ITALIAN ICE arrived for a cool, late-night treat. Tart strawberry and coconut ices were a welcome respite to dance floor warriors and stirred nostalgia for sundown summer evening gatherings with friends and family."
WHY DID YOU CHOOSE THIS LOCATION? As Duke alums, and with seven more Duke alumni in our immediate and extended families, we were committed to planning a duke-centric wedding. Booking the Duke University Chapel for our wedding ceremony was an easy choice, though less easy to execute. In line with Duke Basketball tradition, couples interested in booking the Duke University Chapel must campout in an adjacent quad to secure their preferred ceremony date and time. After a few nights under the starry skies, we gleefully signed our names next to September 19, 2020. Fortunately, when the Covid-19 pandemic necessitated a 1-year postponement, staff at the Duke University Chapel were able to push our wedding date and time by one full year.
Dinner and dancing took place five minutes away at THE COOKERY in downtown Durham, NC. This venue was a perfect fit for us because we wanted to showcase an establishment rich in Durham history. THE COOKERY had previously been an incubator for several well-known Durham businesses, including several downtown eateries and our favourite local brewery. Their unique indoor-outdoor floor plan also aligned perfectly with our garden party aesthetic.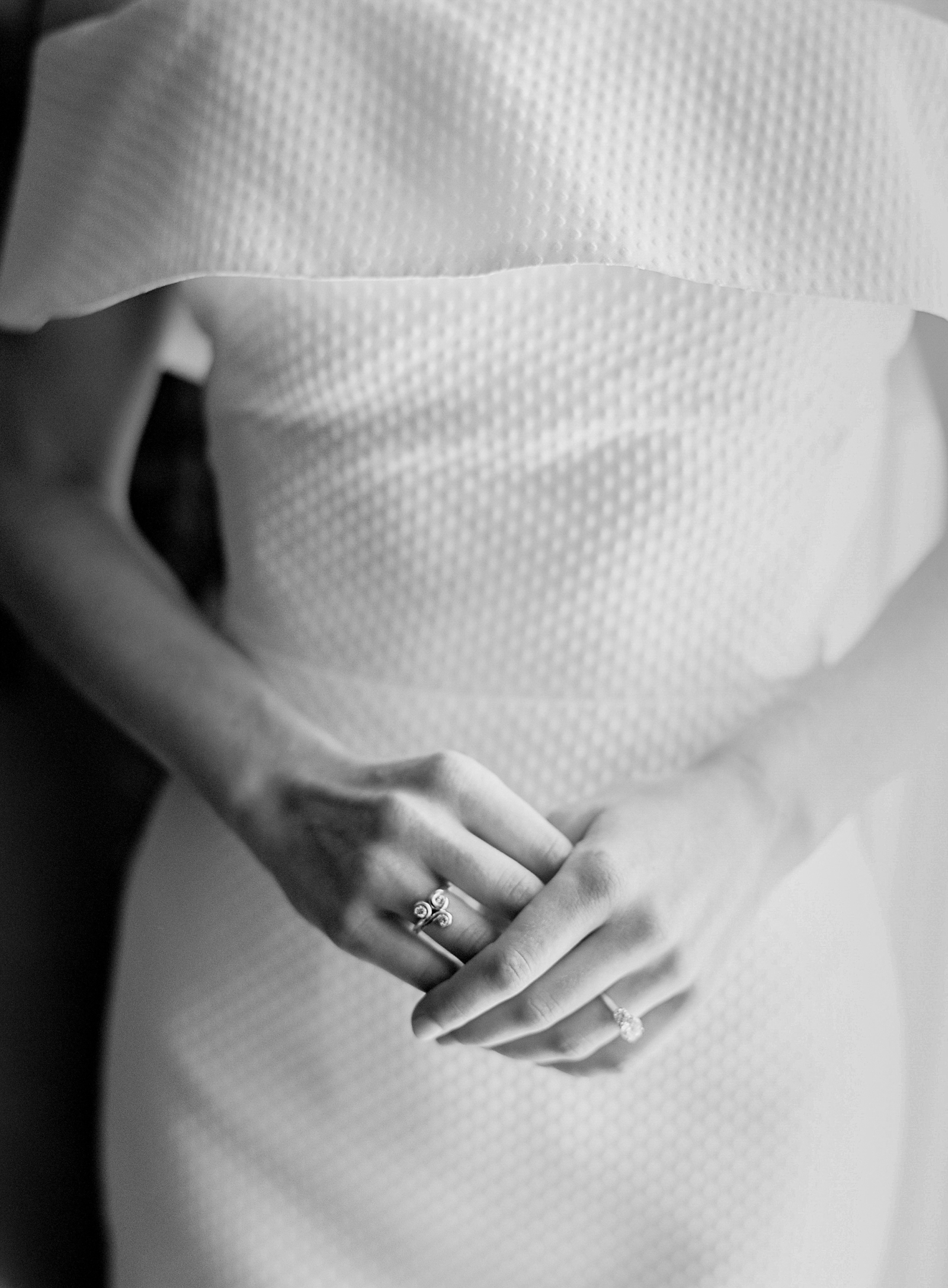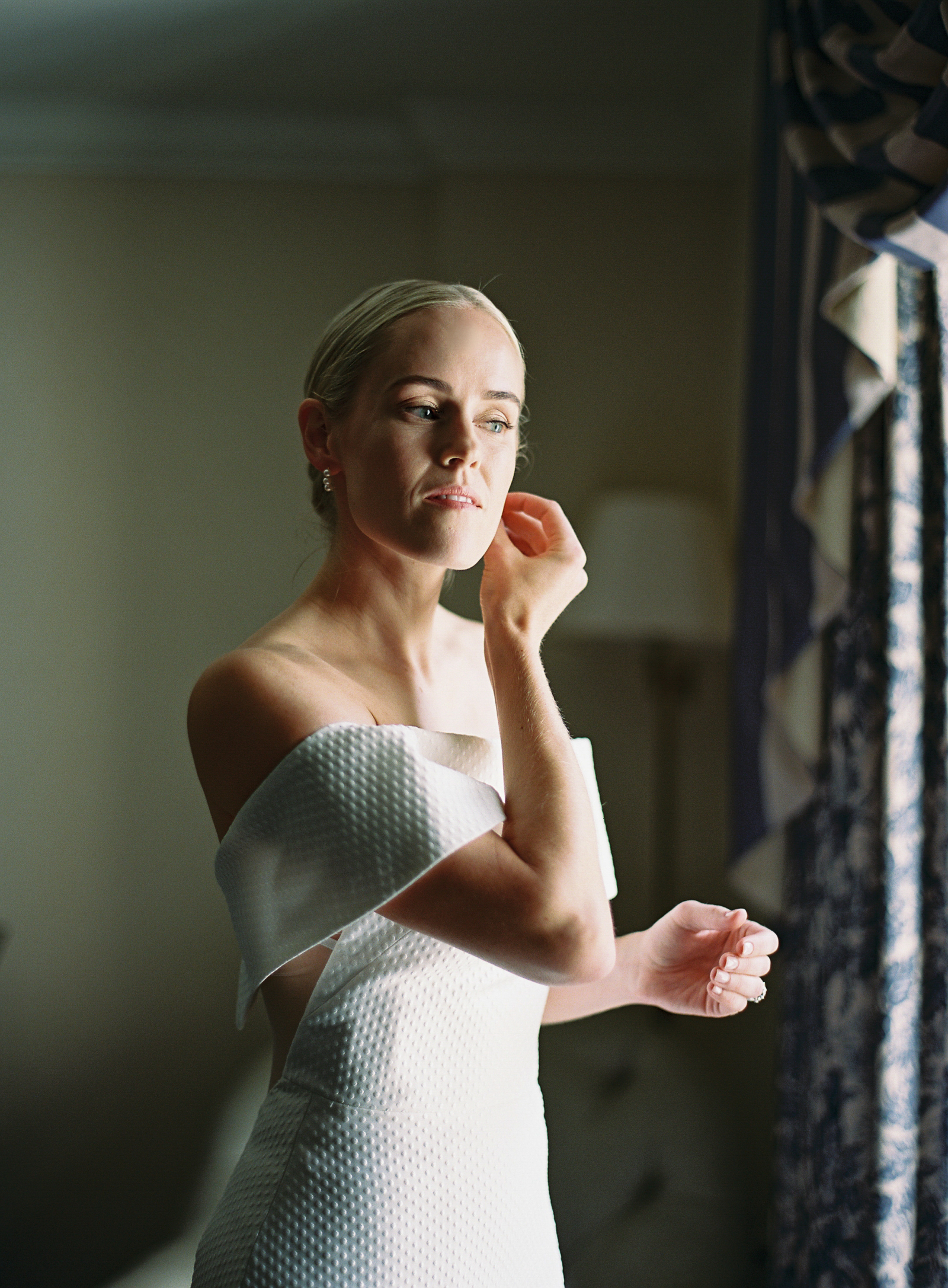 HOW DID YOU MEET? Paul and i likely crossed paths on the grassy quads at duke university many times, but we did not officially meet until after graduation. On a girls trip to Washington D.C., where Paul was living at the time, i struck up a conversation with him while watching sunday night football at rocket bar. A long-distance relationship quickly ensued, keeping us apart for three years before we finally landed in miami together, where i was pursuing my ph.d in clinical psychology.
TELL US ABOUT YOUR PROPOSAL: One wet Florida evening, Paul asked me to marry him on the rooftop of our apartment overlooking downtown Brickell. After getting down on one knee, Paul whisked me away for a surprise celebratory dinner with our families on south beach. The rest of the weekend was full of food, family, and fun on the water. Two weeks later, we came full circle, moving back to North Carolina for my residency at duke.
TELL US ABOUT FINDING YOUR WEDDING DRESS/ATTIRE: I always knew i wanted a polished bridal look. I drew inspiration from the simple elegance of British Royal weddings but desired a modern twist. In the months after my engagement, i visited several bridal salons alone. This is a practice i recommend to all brides to help narrow down style preference without the interference of others' options. At alexia's bridal salon in Raleigh, NC, i fell in love with "the Toulouse" from lela rose. I found it ironic that as my best friend, Paul was the first person i wanted to tell about the gown. Yet, he was the one person i could not tell! Several weeks later returned to alexia's with my mother and mother-in-law to try on "the Toulouse" again. Its structured silhouette and unexpected swiss dot detailing felt comfortable yet striking. Of course, it was impeccably designed to showcase the feminine figure, but more importantly, it allowed my quiet inner confidence to shine. For shoes, i prioritised comfort, opting for multi-tone, gold block heels from Loeffler Randall. I broke them in during several months of dance practice with Paul as we prepared for our first dance. I kept accessories minimal, wearing pearl earrings from Mizuki, a pearl barrette from lelet NY, and my grandmother's diamond ring that had been re-designed for the wedding.

DESCRIBE YOUR WEDDING FLOWERS: My vision for our wedding flowers was aligned with the understated sophistication of our reception aesthetic. Bowerbird flowers and apothecary created a small bridal bouquet of soft white florals with minimal greenery. It was important to me that my bridal bouquet enhance, not detract from, the simple elegance of my wedding gown. My bridesmaids carried petite posies composed of a similar collection of romantic and whimsical white flowers, with just a hint of yellow. Boutonnieres worn by Paul and his groomsmen were the perfect complement, with white flower buds and bright green ferns.
FAVOURITE DETAIL OF THE DAY: Our wedding planner, Emily Izakowitz, helped us be very intention with every element of our wedding. One of the most special details from the day was our tables numbers. As an ode to my's parent's collection of vintage botanical prints, Ellie Snow from Hello Tenhold designed state flower table numbers to reflect all the states that were represented by our wedding guests. It was a special detail that aligned with our design aesthetic and felt rich in family, tradition, and a love for those who had come together to finally celebrate with us.
WHAT ADVICE WOULD YOU GIVE OUT TO A COUPLE PLANNING THEIR WEDDING? Planning a wedding is a marathon, not a sprint. Slow and steady truly does win the race. Lean on your support system, and trust the experts that you have hired to take your special day across the finish line. Unfortunately, planning a wedding during the Covid era is extremely stressful. Fortunately though, rules and traditions have become more flexible. So, do not be afraid to get creative. Focus on what will make you and your partner most joyful, as this is what your guests most desire as well.
MOST MEMORABLE MOMENT? A particularly memorable moment from our wedding day is walking down the iconic aisle of the duke university chapel with my father (a duke graduate himself). I was born in durham while my father was in business school at duke and my mother was working as a nurse at the duke university hospital. In one of our early family scrapbooks, there is photograph of my young parents with me in a baby carrier in front of the duke university chapel. It was incredibly meaningful to come back to the chapel 31 years later to marry Paul. Our photographer Jamie Vinson did a stellar job of capturing the depth of our happiness and relief as we walked out of the chapel, finally husband and wife after an extra year of waiting.
WHAT ASPECT OF THE WEDDING WAS THE MOST IMPORTANT TO YOU BOTH? The incorporation of family into our wedding day was a top priority for Paul and me. Paul organised a pickleball match with his father and brothers on the morning of the wedding. Instead of a first look with Paul, i opted for a first look with my father and two younger brothers. My mother wore a heart-shaped ring from her own mother, to honour her spirit on our special day. Readings during the wedding ceremony were recited by immediate and extended family, and all the speeches at the reception dinner touched on the recurring theme of family. It felt fitting to be surrounding by the love of our families while \Paul and i started our own.
ANY OTHER DETAILS THAT HELP TELL THE STORY OF YOUR DAY? Having a lively dance floor was a key component of our reception. With the help of our wedding planner, Emily Izakowitz, booking the band punch was one of the first things we did after securing our wedding venues. To ensure ample time for dancing with family and friends, we coordinated with the cookery to extend our event length and keep the cocktails flowing for an additional hour. Curating a playlist full of Motown oldies was easy with punch and they followed through on their promise to "bring the party." after changing into a vintage fringed dress from happy isles salon, i was able to fully participate in a vibrant dance party that concluded with an impromptu solo dance from Paul and me to journey's "don't stop believing."
TELL US A LITTLE ABOUT YOUR HONEYMOON: Our initial honeymoon plan was to travel to Bora Bora. However, due to Covid we opted to stay closer to home and visit Hawaii instead. Planning the honeymoon was Paul's domain and he did a stellar job. We spent most of our trip on maui, where we offset poolside lounging with adventure seeking on the road to Hana and snorkeling off Molokini. We concluded our trip on the island of kauai. There we enjoyed a private surf lesson and the beautiful vistas along Waimea Canyon.
IS THERE ANYTHING YOU WOULD CHANGE OR DO DIFFERENTLY? Although it is cliché to say, there is not much i would change about our wedding day. I wish the day was longer, so i could have relished in its perfection for a few more hours!V
A big thank you to North Carolina wedding photographer JAMIE VINSON for sharing this beautiful wedding with us. Jamie is a valued member of our vendor guide. Rooted in a deep appreciation for love and family, Jamie approaches a wedding day knowing that each moment she documents will be treasured for generations. With a style that is vibrant and joyful (and perhaps with a hint of drama) she specialises in creating an experience that results in images that are a true reflection of each couple she photographs. She tells us, "I am highly organised and channel all of my type-A personality into planning for each wedding, which in turn gives me the freedom to create and perform at my highest level on your big day." You can see more of her portfolio here.