With its stunning architectural details and the perfect location, Alexia and Corey chose to hold their colourful wedding at the MERRIMON-WYNNE - a historic Estate in downtown Raleigh, North Carolina that has been carefully restored to its original grandeur. The expansive beautifully maintained gardens provided the perfect backdrop for their celebration which was beautifully captured by ALLY & BOBBY. The couple who met during a family vacation a decade ago, wanted a whimsical day full of romance. Alexia says, "I wanted our wedding day to be elegant and beautiful, but still meaningful and organic. The house is situated right in Downtown Raleigh, so it was great for our guests. The main house, which was where we got ready, and where our cocktail hour was held, was built in the 1800s and has the character to prove it. The grand staircase is one of our favourite elements! Our ceremony and reception were held in the Carriage House, which is on property, but has a more modern feel. This was a fantastic blank canvas for our wedding design."
HOW DID YOU MEET? Ten years ago, Corey and I met on a family vacation. I was fresh out of high school and he had just finished his freshman year of college. Growing up, Corey was best friends with my cousin, but because we lived in different states, our paths had never crossed. At the end of the vacation, we went our separate ways. Flash forward to September 2015, when my cousin was getting married. Corey was a groomsman, and I a guest. We hit it off immediately during the wedding weekend, and the rest is history!
TELL US ABOUT YOUR PROPOSAL: For weeks leading up to the proposal, Corey had been planning a surprise day-date to celebrate our anniversary. He wouldn't tell me what was on the agenda, but knowing Corey, it would be sentimental and perfectly planned. The morning of our date, he gave me a book filled with photos of us, memories and hopes for the future. He told me that the book was my first gift, and my second gift would come later that evening. Throughout the day, he had a series of our favourite activities planned – breakfast at a local coffee shop, picking pumpkins, going to the State Fair, and finally dinner at a fancy new restaurant in town. At each stop, he gave me little cards with clues that would ultimately lead me to my proposal scene. At the end of the day, Corey took me home to our front porch, which was covered in candles. It was there that he proposed – with my whole family hiding inside of the house. After I said yes, we celebrated at a speakeasy cocktail bar with my family!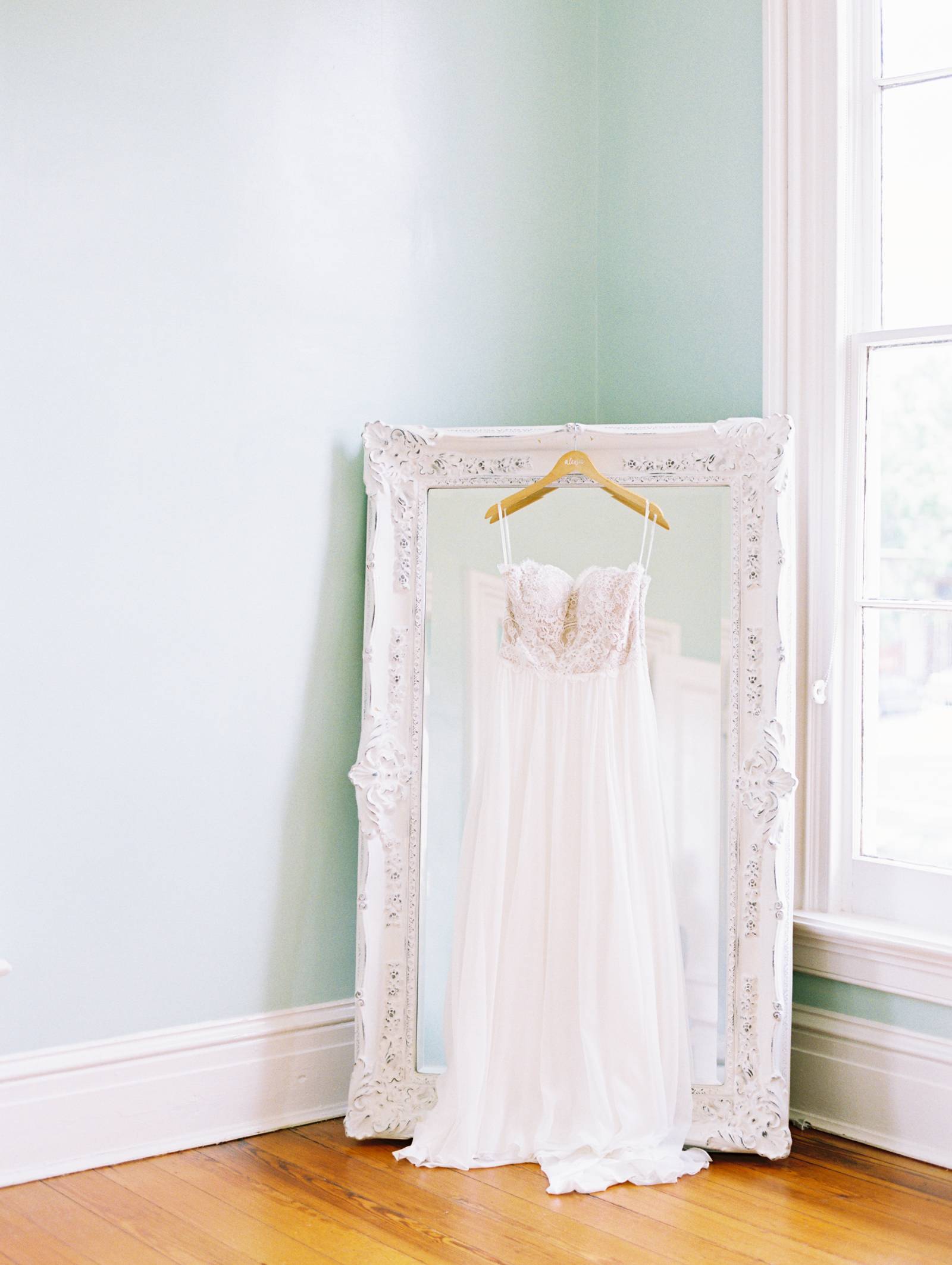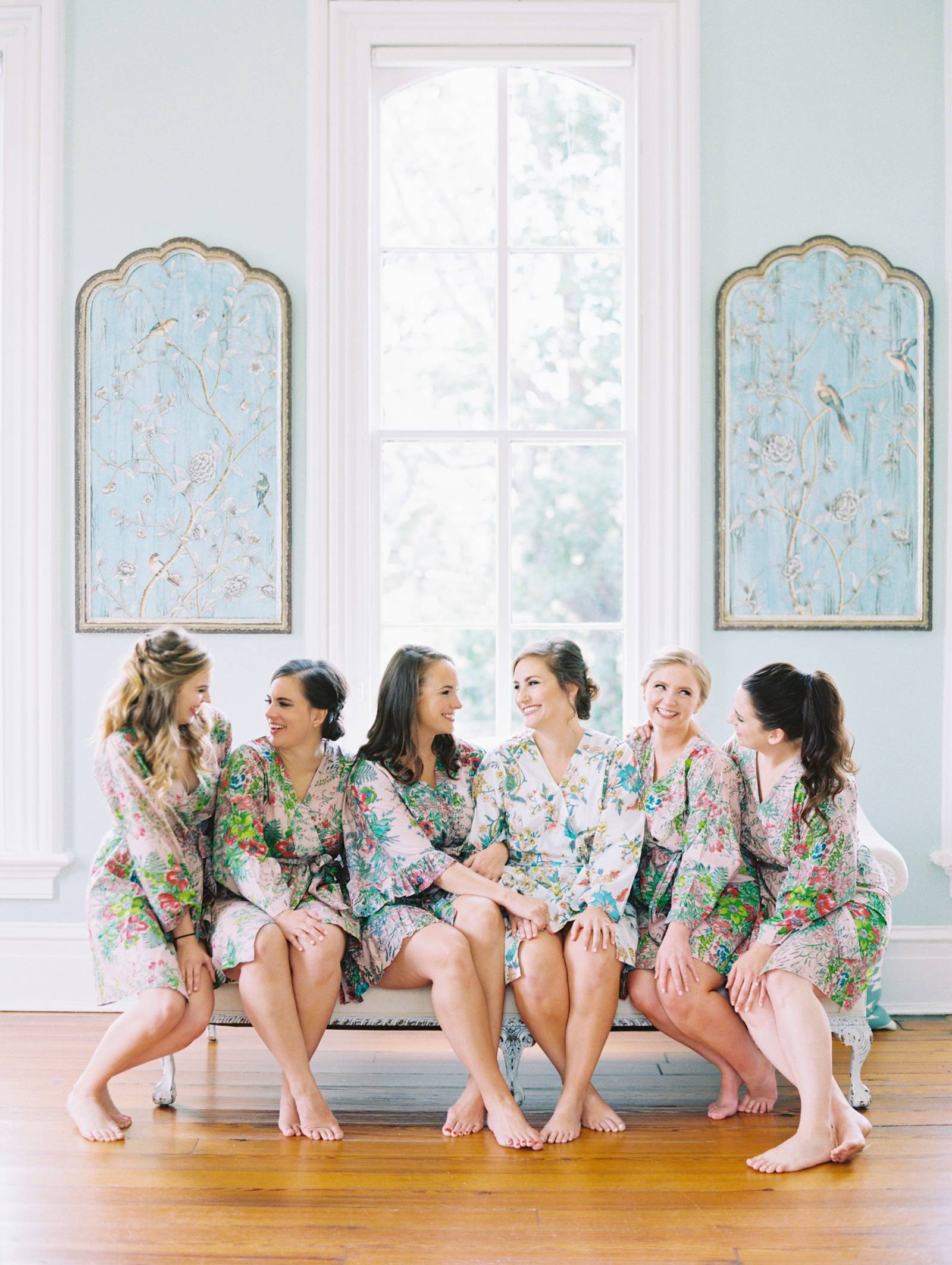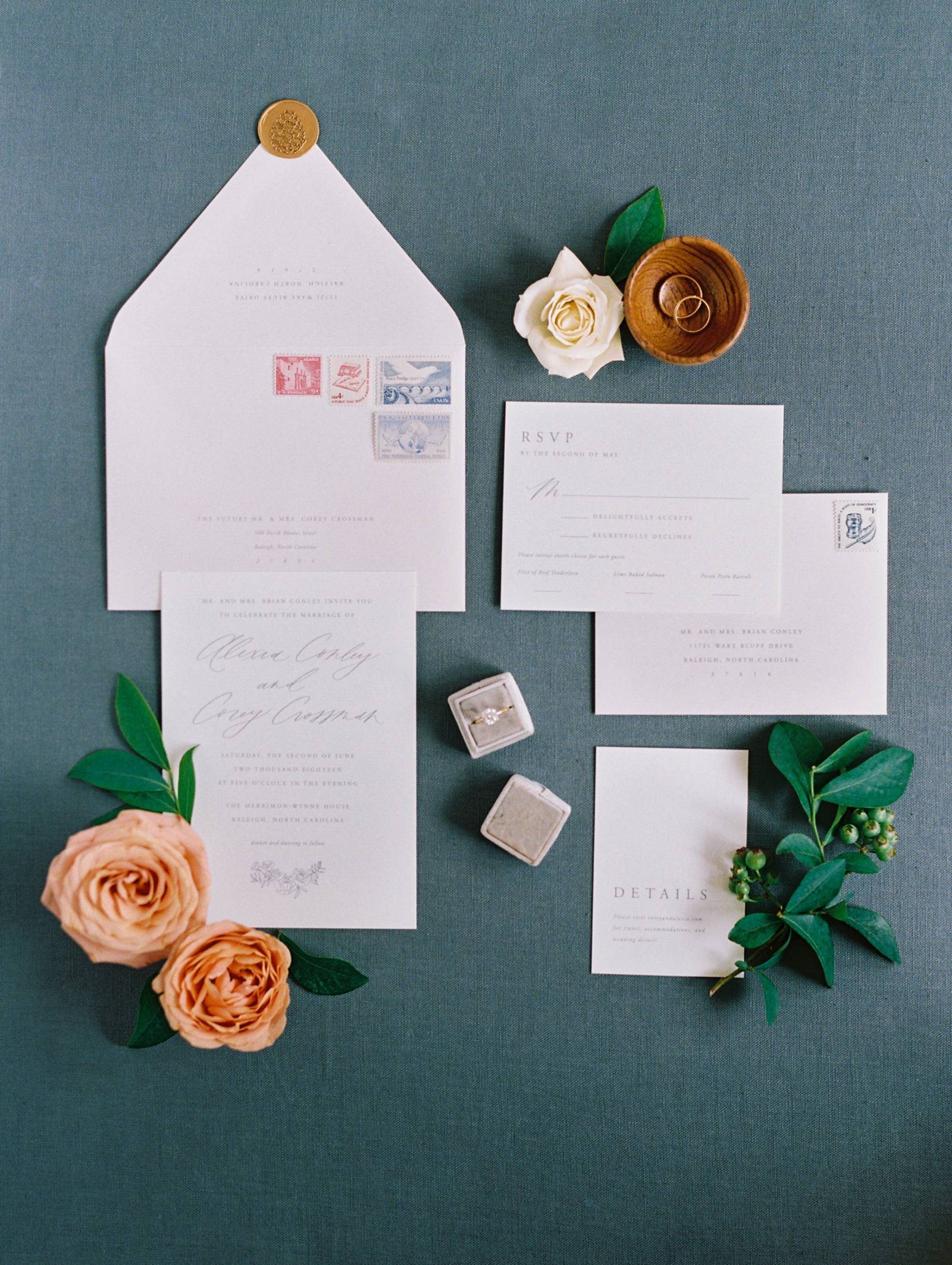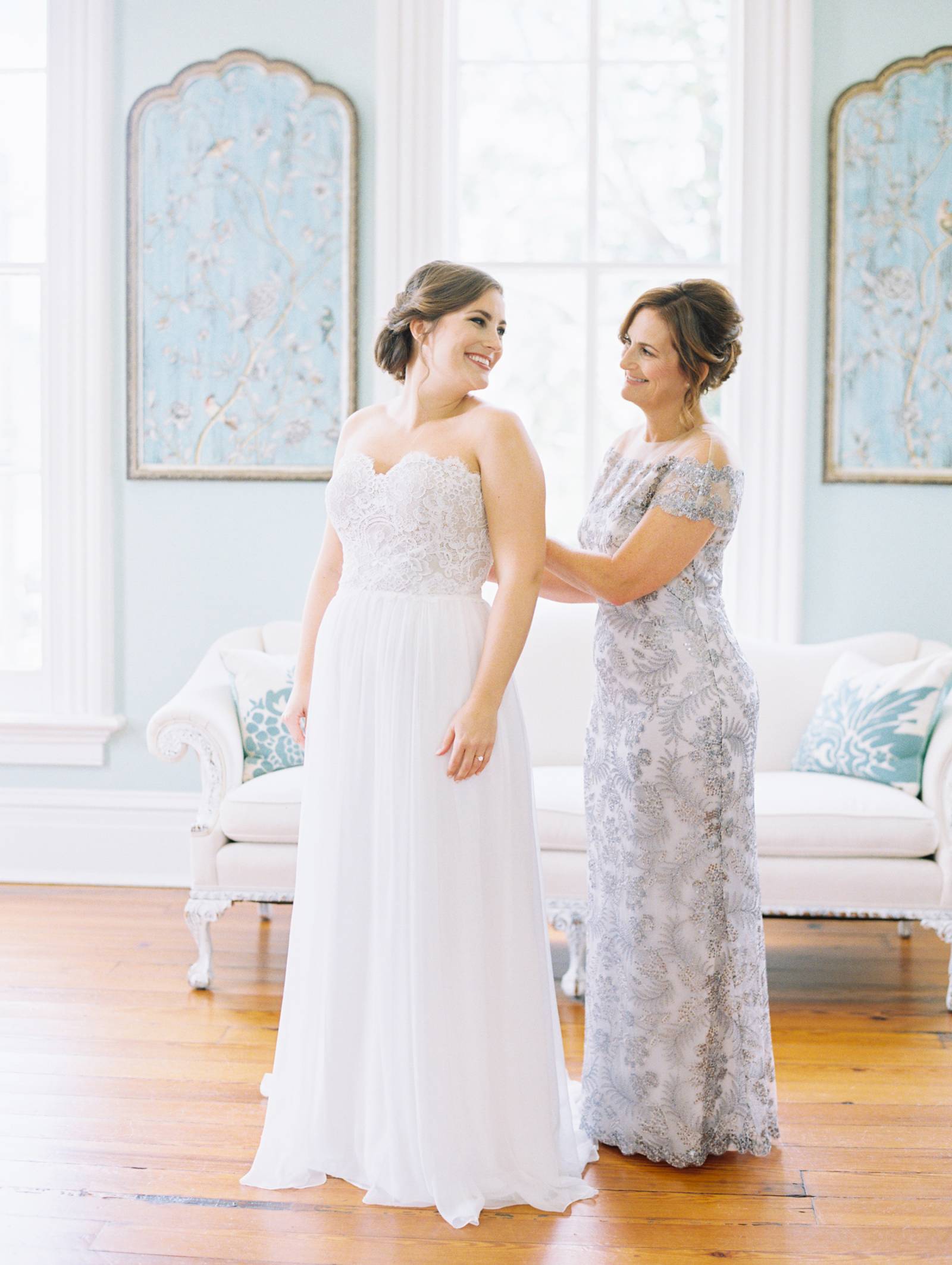 TELL US ABOUT FINDING YOUR WEDDING DRESS: I knew that I wanted a simple and ethereal wedding gown from the start. I visited a couple local wedding dress boutiques, and tried on many different styles and silhouettes, but nothing felt right. My mother and I decided to travel to Washington, DC for a dress shopping trip, as this was the closest big city with boutiques that carried some of the bridal designers I had been coveting. When we visited Lovely Bride, and I tried on my gown, I knew it was the one. Because I had other appointments already scheduled, I decided I'd try on a few more dresses and come back for "my dress." Needless to say, we were back at Lovely Bride to purchase the gown before the day was through! My gown is called the Martine from Louvienne, and it's a strapless, fitted lace bodice with a flowing chiffon skirt. Still so in love!
DID YOU HAVE ANY DIY ELEMENTS? Yes! My mother and I created all of our tapered candle holders out of marble and copper pipe. My parents also handmade and hand stained each of our table number, escort card and place card holders. I DIY'd all our day of paper details – the place cards, bar menus and escort cards. Each guest's escort card doubled as an envelope with a hand-written note inside!
DESCRIBE YOUR WEDDING FLOWERS: Wylde Flowers completely understood our wedding inspiration and truly brought it to life with the flowers. My bouquet was a mix of blush, peach and cream florals with greenery elements and pops of blueberry (yes, the fruit!). My bridesmaids had similar bouquets, and the mothers wore gold cuffs, adorned with blooms. Corey and I exchanged our vows in front of an organic vine wall installation that doubled as the backdrop for our head table at the reception.
One of my favourite floral details was the installation they created on the staircase in the house - it looked as if a garden were sprouting right out of the floor! It was the backdrop for my first look with my father and the first thing guests saw when they entered the cocktail hour. For the reception, whimsical cloche glass florals complemented farm tables, tapered candles and dusty blue linens.
FAVOURITE DETAIL OF THE DAY: Our ceremony! It was just so "us." Reciting the vows we wrote to one and other in front of all of our favourite people was so meaningful and perfect. Although we were surrounded by loved ones, it truly felt like just us two. I even kissed Corey at the beginning of the ceremony because it felt natural – so much for waiting to kiss the bride until the end!
WHAT ADVICE WOULD YOU GIVE OUT TO A COUPLE PLANNING THEIR WEDDING? Have fun and enjoy! Your wedding day will go by so quickly – don't forget to step back and just take it all in. Enjoy the little moments and remember what truly matters – your marriage! And, hire an amazing team of vendors that will allow you to be fully present on your wedding day.
MOST MEMORABLE MOMENT? My first look with Corey! It was full of so much joy and emotion. It truly set the stage for the wonderful day we had together.
TELL US A LITTLE ABOUT YOUR HONEYMOON: We honeymooned in Hawaii! We spent time on the island of Kauai and the Big Island. Our most memorable adventures from our honeymoon included a helicopter tour and staying in a treehouse!