Emalyn & Tanner envisioned their wedding day for years, and then wham, COVID hit. They never anticipated the trials that would come with being a 2020 couple, but they eloped in a small, family-only ceremony on their original date and moved their wedding day to later in the year. Atlanta wedding photographer A. THOMAS PHOTOGRAPHY who captured their wedding tells us, "The best part of watching my brides go through this year is the grace and poise I see in them as they navigate these unfair scenarios, and Emalyn was the classiest. They were just so excited to celebrate the love that she and Tanner share, even if it meant paring down the guest list and re-imagining what their day would look like. When I asked Emalyn what her favourite part of the day was, she said it was "finally getting to celebrate" with their closest family and friends."
The couple worked with wedding planner SHAYNA CHAPMAN to create a romantic garden wedding with a modern, minimalist style. Having to pivot due to the realities and restrictions of the year, Shayna "knocked it out of the park" according to Emalyn, and the twinkling lights, soft candlelight, the intimate (while remaining distanced) dinner party, and the garden ceremony all made for an easy-going whilst still upscale celebration. Held at DUNAWAY GARDENS, immersed amidst their beautiful trees and flowers, it served as inspiration for the minimal but classic decor that the bride chose, and the seating options outside made for a cozy dinner-party vibe. The night ended with a delicious and gorgeous wedding cake and ice cream cones to dance away the summer night.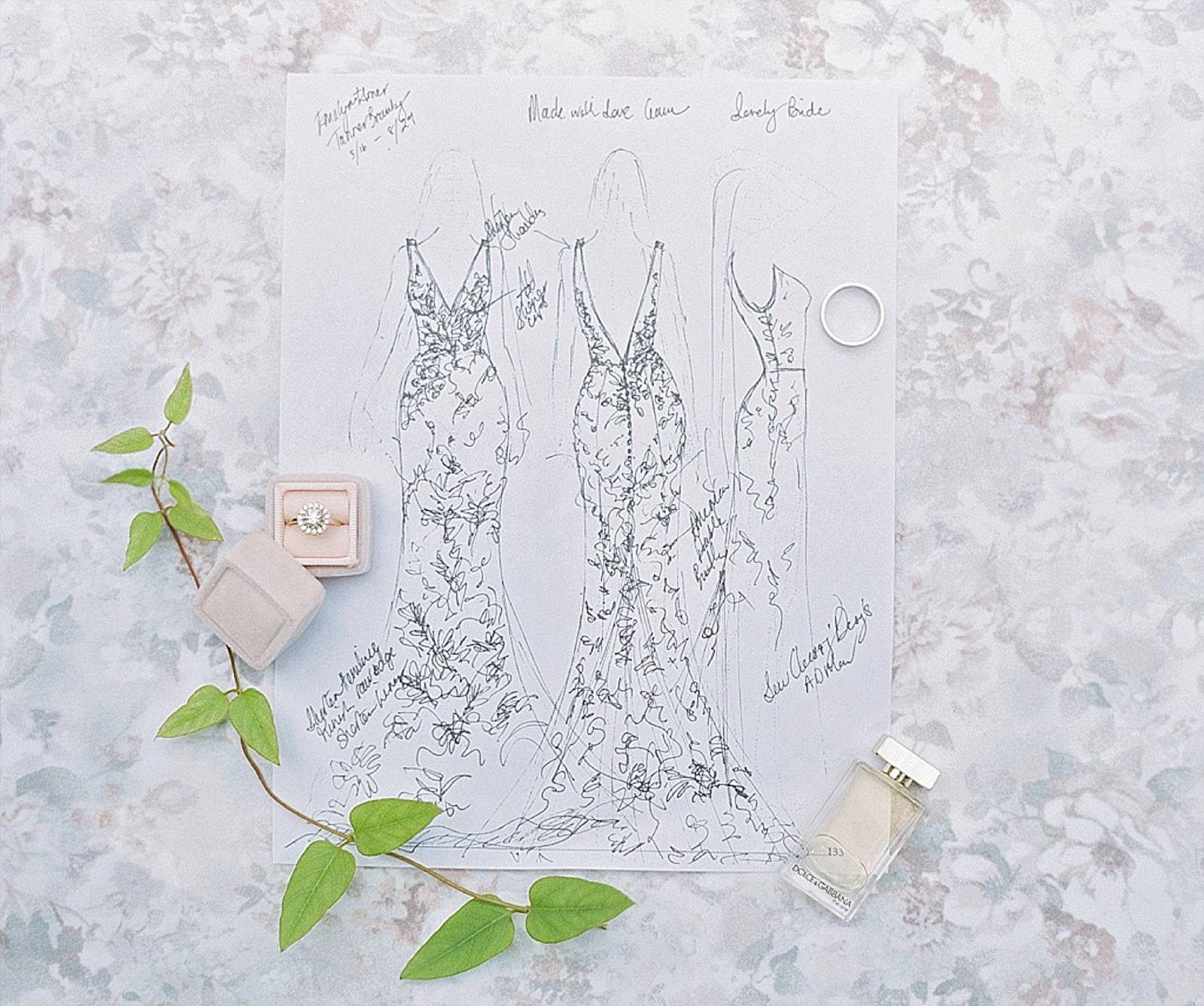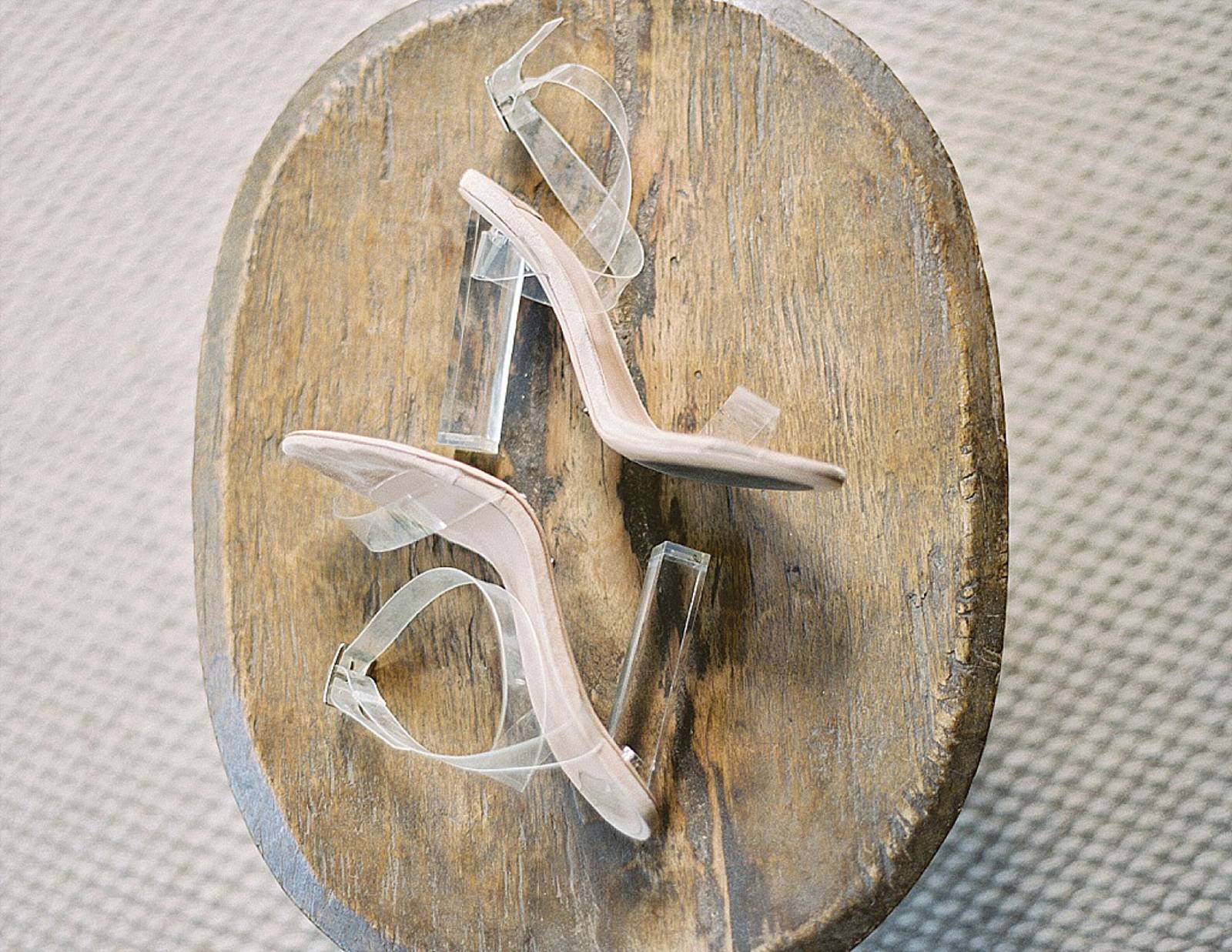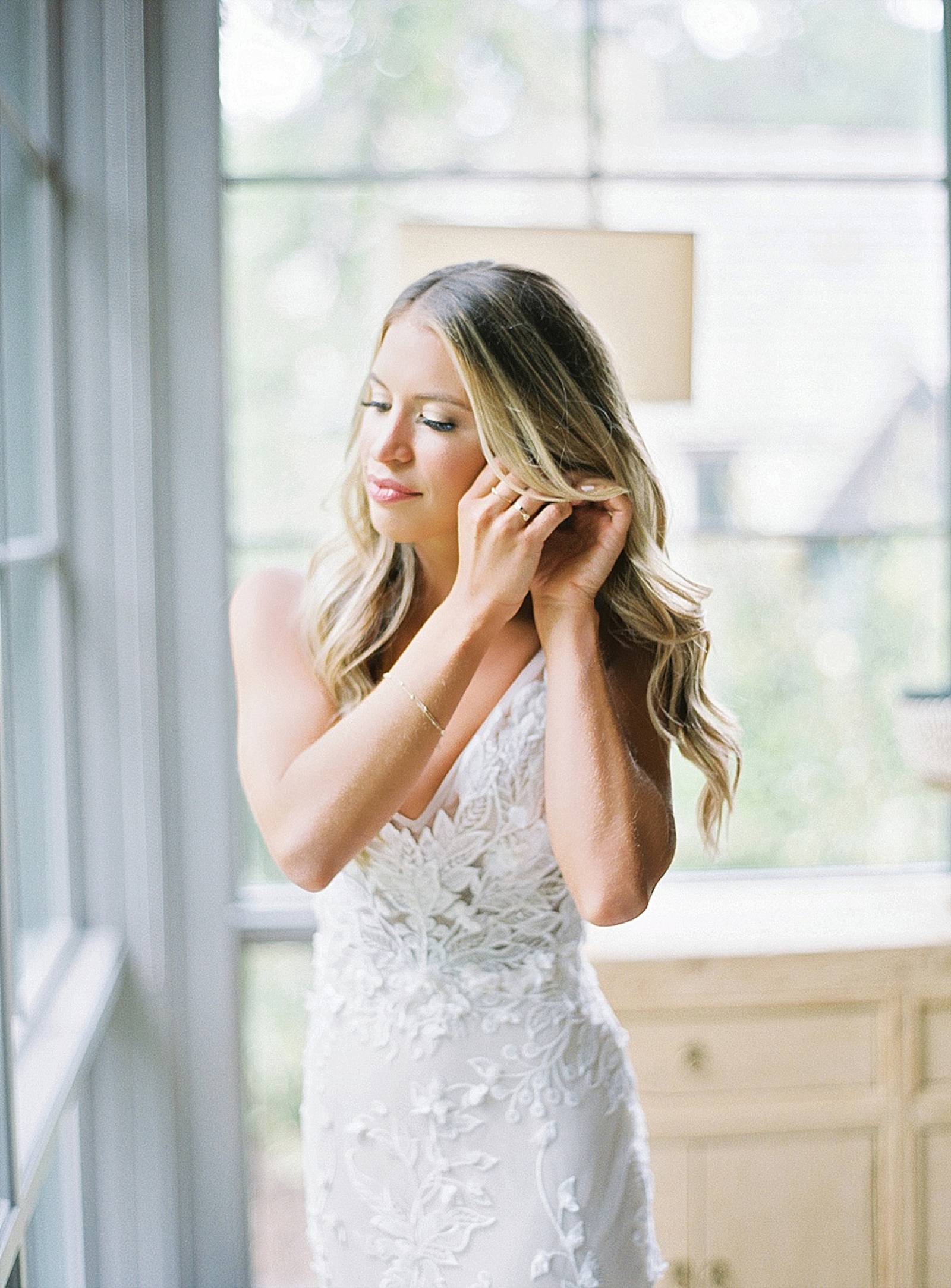 HOW DID YOU MEET? We met in college. I was a cheerleader and my husband played football. I helped as part of the recruitment team and was able to recruit him to come play for our school. Once he arrived, we started dating and here we are 6 years later.
TELL US ABOUT YOUR PROPOSAL: Tanner proposed in February of 2019. We were headed out to celebrate his new promotion (so I thought), but instead he had rented out the riverbank space of a local restaurant and arranged a hidden photographer there. It was decorated with candles everywhere and when we walked over the bridge, I could see it was not an ordinary dinner. He got down on one knee and I said YES! Our closest friends and family surprised us with a party afterwards!
TELL US ABOUT FINDING YOUR WEDDING DRESS: I ended up getting the very first dress I tried on. My mom and sister entertained me by tagging along to several more shops just so I could be sure, but I returned to purchase that one. I fell in love with the open back and applique details and felt very much like it would blend beautifully with my garden location.
DESCRIBE YOUR WEDDING FLOWERS: I loved how overflowing Dunaway Gardens was with flowers and greenery and so I only wanted to compliment that. I requested large white peonies, as they are my favourite flower, and the rest I wanted to be greenery (eucalyptus, herbs, olive leaves etc.). This is one of the main areas I really wanted the minimalist touches to come through.

FAVOURITE DETAIL OF THE DAY: My favourite detail of the day was the sparkle of the candles and overhead twinkle lights surrounding the garden and dance floor as the sun went down. It created such a warm and picturesque ambiance as we danced and celebrated together.
WHAT ADVICE WOULD YOU GIVE OUT TO A COUPLE PLANNING THEIR WEDDING? Trust and lean on your wedding planner/coordinator. Shayna was so patient, kind, and full of wisdom. She took the time to understand my dream and was able to make things I could never imagine happen for us.
MOST MEMORABLE MOMENT? My favourite moment of the day was walking from the ceremony to the reception through the luscious green garden under many little twinkling lights with my husband! It was such romantic and quiet moment for us.
WHAT ASPECT OF THE WEDDING WAS THE MOST IMPORTANT TO YOU BOTH? The most important part of the wedding to us was the ceremony itself. We were already married back in May and were not able to host our wedding then. We wanted to be able to profess our love and commitment with our friends and family all there supporting and celebrating us.
TELL US A LITTLE ABOUT YOUR HONEYMOON: We have not been able to go on our honeymoon. We planned to go to Maui but have had to indefinitely postpone it.
IS THERE ANYTHING YOU WOULD CHANGE OR DO DIFFERENTLY? Honestly, no. Even with the small mistakes and mishaps the are bound to happen, it was all a part of what made that day special for us. We finally got to have our wedding and celebrate, and we wouldn't want to change any of those memories!
A huge thank you to Atlanta wedding photographer A. THOMAS PHOTOGRAPHY for sharing this beautiful inspiration with us. Abigail is a valued member of the Magnolia Rouge Vendor Guide where you can see more of her work. "Photography, for me, means capturing all of your life. It will not always be perfectly posed. It will not always mean that everyone is looking at the camera. However, it will mean that 10 years from now, when that groom is a new dad, or that bride is showing her little girl the great-grandmother she never got to know, those memories will still be tangible. And real. And messy. And beautiful." You should also check out this A Timeless Elegant Georgia Plantation wedding at Vinewood Stables by her or this interview to get to know more about her.