Any day we get to feature the beautiful work of Arkansas wedding photographer ERIN WILSON is a good day! And this garden wedding of Rachel & Tim's at is no exception. The couple chose to wed at THE BALLROOM AT I STREET in Northwest Arkansas which offered them beautifully landscaped grounds and an intimate courtyard for the ceremony. The couple tell us, "We wanted an outdoor garden wedding. We wanted it be very light and bright with greenery and flowers. I loved the colour of light blue of hydrangeas mixed with gold accents."
WHY DID YOU CHOOSE THIS LOCATION? We choose the Ballroom at I street because it was in Tim's hometown and fit our wedding style perfectly. We loved the outdoor garden area. It was a dream for our ceremony. The reception space was beautiful too. It had big windows with lots of natural light that just made the space feel so bright and clean.
HOW DID YOU MEET? We meet online. We lived about an hour away from each other. If it wasn't for my friend talking me into signing up for online dating we would have never meet. He was the first person I went on a date with that I meet online. I never looked back. The funny thing is we went to the same college and same class but had never meet each other.
TELL US ABOUT YOUR PROPOSAL: He proposed to me while we were on vacation in Florida for my 30th birthday. I had hired a photographer to take pictures of us on the beach. He took advantage of that and propose to me during our session. I don't know who was more surprised me or the photographer. She had no idea it was going to happen either! I am so thankful to have those pictures. I say I planned my own engagement. I'm not sure how he hid the ring from me the whole trip. I even packed his bags for the trip and still had no idea. He proposed to me with my great grandmas 25th anniversary ring from 1947.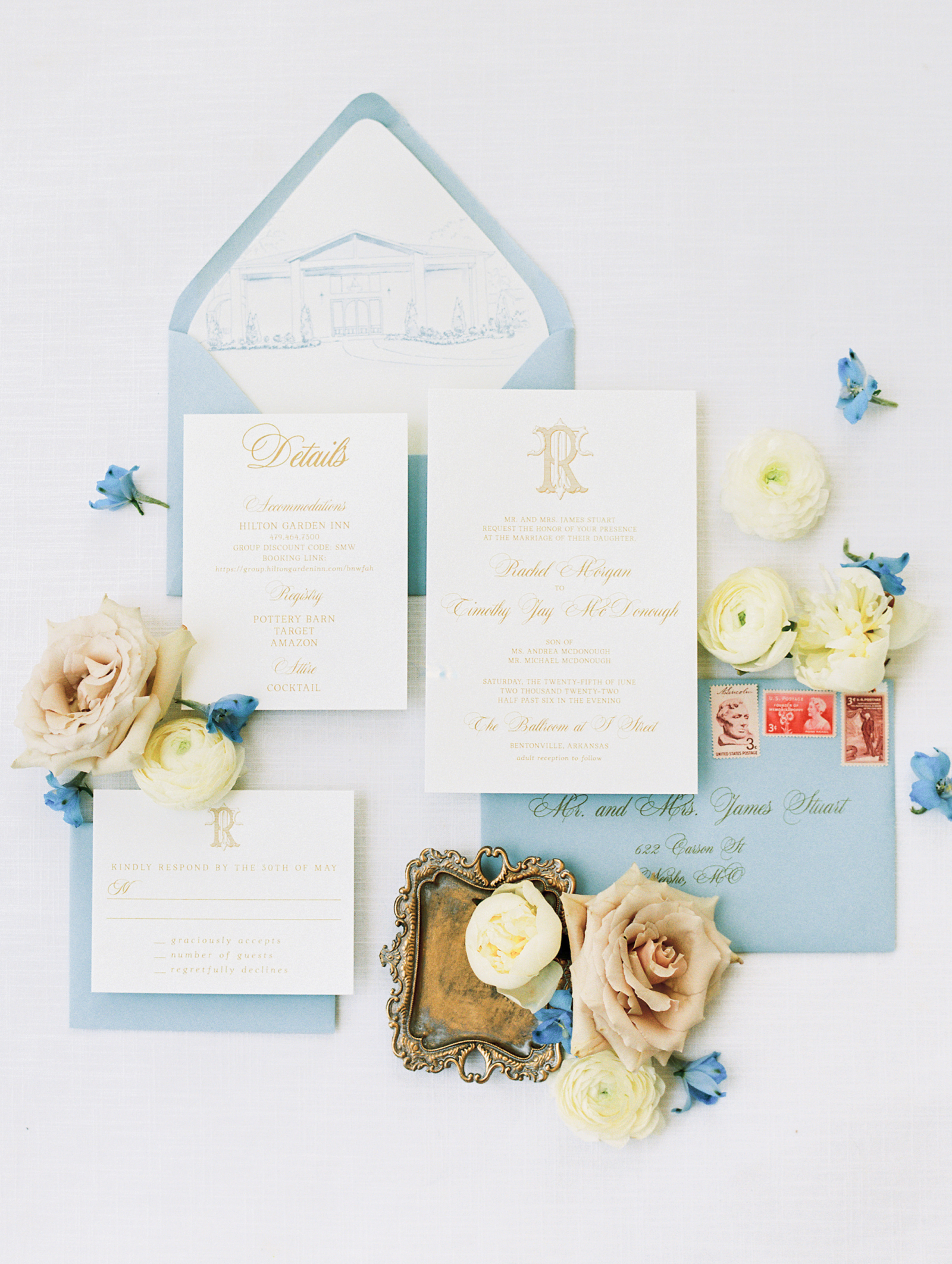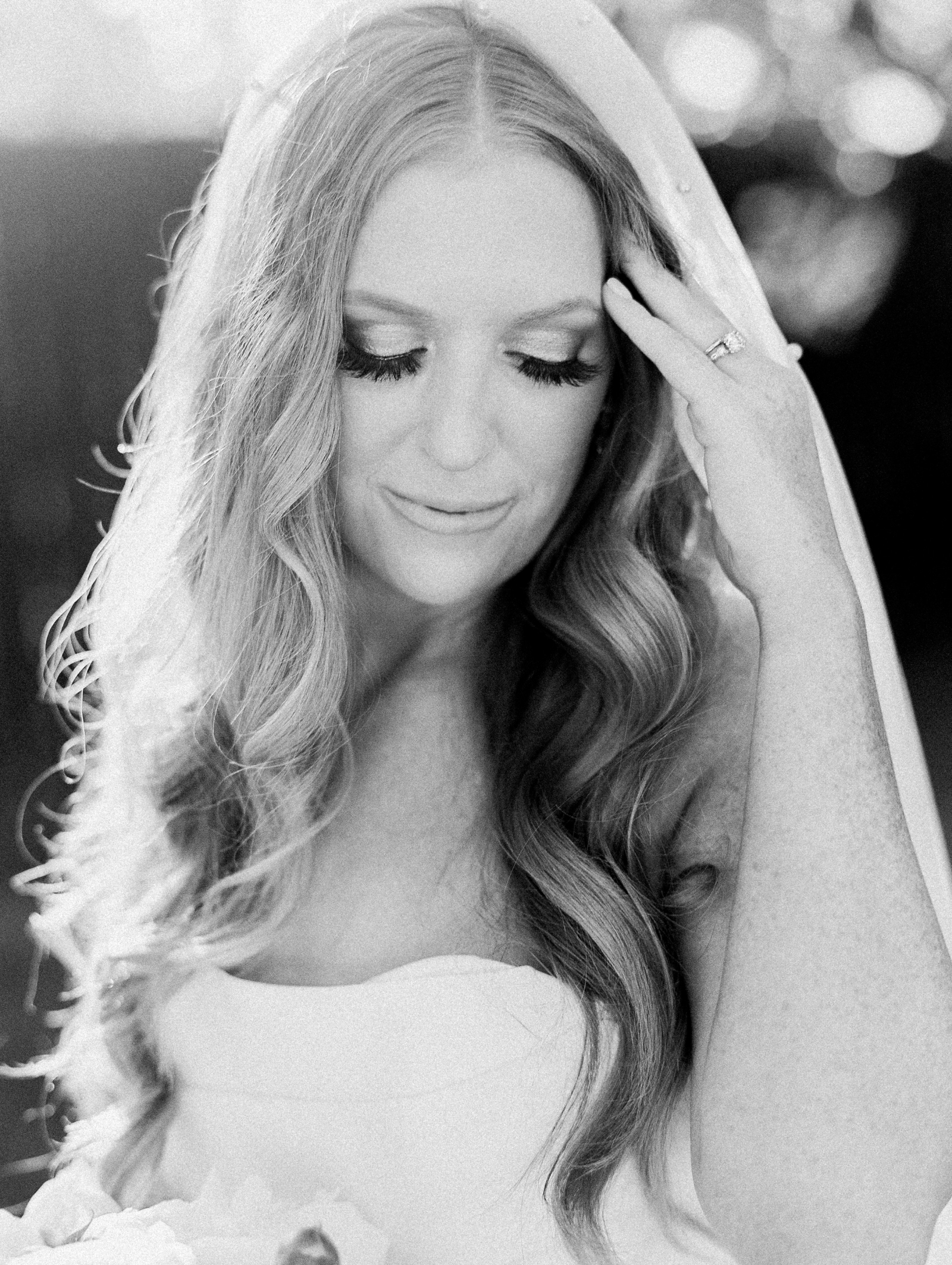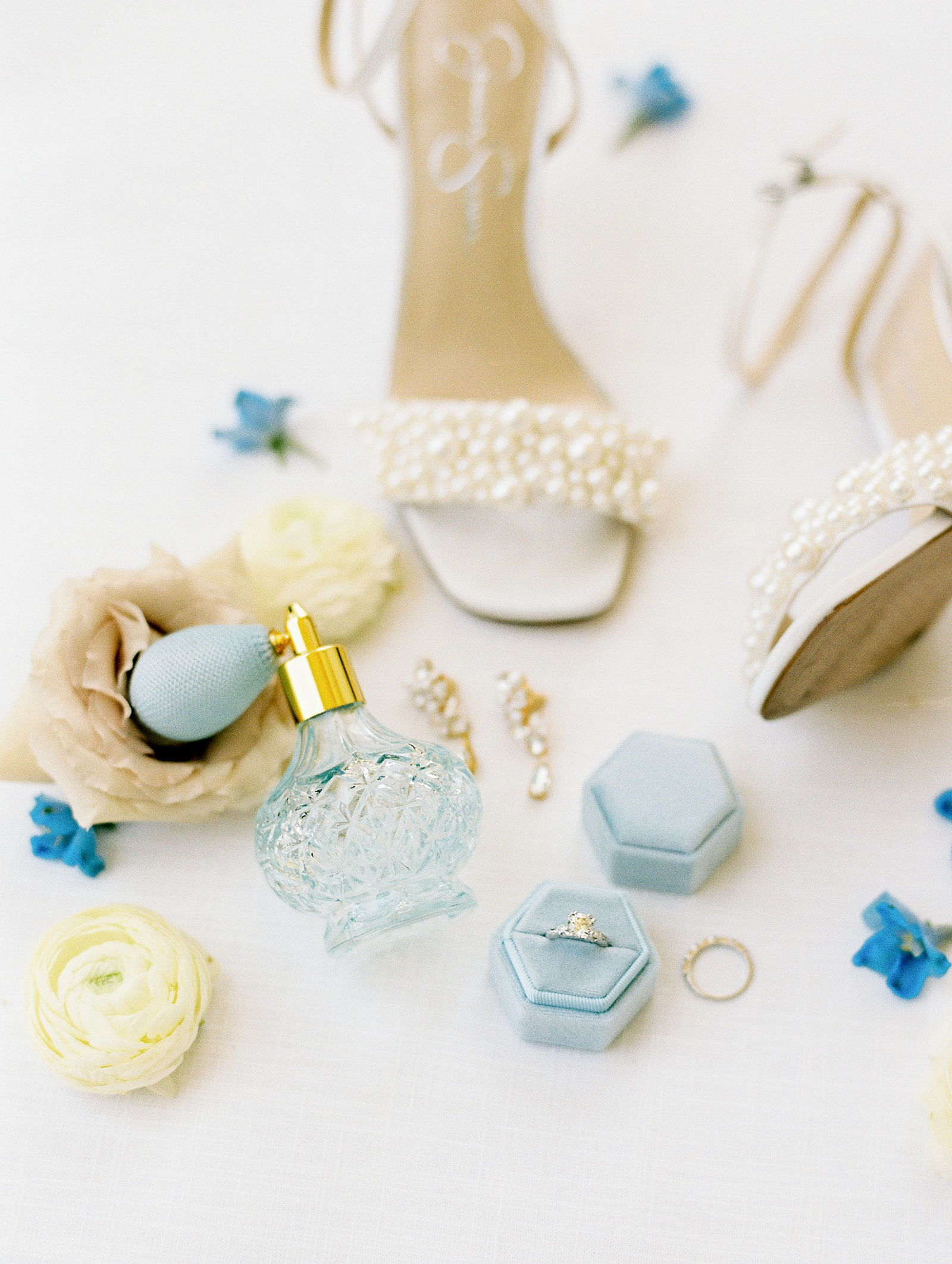 TELL US ABOUT FINDING YOUR WEDDING DRESS: I found my dress at Mimi's Couture Bridal In Kansas city. I had a hard time making a decision on a dress. There are so many beautiful dresses and you only to pick one for the biggest day of your life! I picked Heart & Soul by Anne Barge. I loved how classic it was but it also made a statement. The button details on the side sealed the deal.
DESCRIBE YOUR WEDDING FLOWERS: My bouquet was all white peonies. My favourite flowers. The bridesmaids bouquets had white roses and peonies mixed with pops of dusty pink roses and greenery. WE had flowers adoring the tree that we got married under and had flowers lining down the centre aisle. The Reception had tables with centerpieces full of hydrangeas in white and blue. These flowers were also found on the cake.

FAVOURITE DETAIL OF THE DAY: The dance floor was a huge statement. We loved it. We had many compliments on it and are so glad we had a customised dance floor for our wedding.
WHAT ADVICE WOULD YOU GIVE OUT TO A COUPLE PLANNING THEIR WEDDING? It may be cliché but the advice I wish I had known is that it is all worth it. Most couples don't have a lot of experience planning weddings or big events so when it comes to their own wedding it can be very overwhelming and stressful. There are so many decisions to make. If you are not great at making decisions it can really make what is supposed to be one of the happiest time of your life be very stressful. It is all so worth it. Our day turned out even better than we could have hoped for!
MOST MEMORABLE MOMENT? The most memorable moment for me was the father daughter dance. We did not do a traditional song for our dance. We danced to old time rock and roll, one of my dad's favourite songs. This was song was played at my parents reception after their first dance. My dad had no idea what we were dancing to. The way he lit up after the song started is something I will never forget. We had the best time dancing to it together. This got the party started and led into the dancing part of the reception.
WHAT ASPECT OF THE WEDDING WAS THE MOST IMPORTANT TO YOU AND YOUR PARTNER? The most important aspect of the wedding was having all the people we love and adore there. It was really important to us to have our friends and family feel a part of our big day. We were so blessed to have so many people support us on our big day as we became husband and wife. We had people there form all aspects of our lives and now when we think about these people we have the memories of the roll they played in our wedding.
TELL US A LITTLE ABOUT YOUR HONEYMOON: We went to Couples Isle Tower in Jamaica for our honeymoon. WE enjoyed our first week of being married by the ocean with amazing views and lots of quality time together just the two of us. It was the perfect way to start our lives as a married couple.
IS THERE ANYTHING YOU WOULD CHANGE OR DO DIFFERENTLY? We have talked about this so many times since our wedding. There is absolutely nothing we would change. It was the most perfect day. We loved every second of it and wish we could it over and over again.
A huge thanks to Arkansas wedding photographer ERIN WILSON for sharing this beautiful wedding with us. Erin is known for her dreamy wedding photography and loves to serve others by encouraging their creative sides, reminding them how beautiful they are and being as positive and calm in wild situations. "I am extremely passionate about people, art and love. I photograph weddings on film and digital and very inspired by timeliness images that have a little artful vibe." You can see more of Erin's portfolio in our VENDOR GUIDE and you may also want to check out this Stunning Italian garden wedding inspiration.