Having had their first date in Charleston, and it subsequently becoming a special place to them, Rachel & Eric chose to get married in the city where it all began. From the minute they stepped onto the grounds at LOWNDES GROVE they knew it was special, telling us, "The main house is situated on expansive grounds and is nestled right on the Ashley River. The sales manager who showed us around was so knowledgeable about every aspect of our venue, so we knew we'd be in good hands." It was important to the couple that their wedding evoke a romantic feel with a touch of Southern charm and thus their aesthetic was inspired by a neutral colour palette with blue and gold accents, lush, organic greenery and a touch of whimsy that included a bed swing and hanging floral installations by OUT OF THE GARDEN. Charleston wedding photographer AVA MOORE was there to capture these beautiful images of the day.
HOW DID YOU MEET? My husband and I actually met at a wedding! In December. 2017, I was maid of honour at my best friend's wedding and Eric was a groomsman. We were paired up to walk down the aisle together and the rest is, as they say, history.
TELL US ABOUT YOUR PROPOSAL: After a year of long-distance dating and driving 400 miles back and forth between Georgia and North Carolina every other week, Eric and I celebrated our first anniversary back in Charleston. He surprised me by recreating our first date with drinks at Revelry Brewing Co. followed by dinner at Prohibition. Little did I know, but he'd also planned a detour to propose at a gazebo in White Point Garden near the Battery. However, his plan almost fell apart when the photographer he'd hired to take engagement pictures of us secretly called to tell him a wedding was going to happen at the exact time they'd planned the proposal. Eric had been playing it cool all day but after he got that phone call, there was a sudden urgency to leave our drinks at Revelry and rush to the garden. Though I was extremely confused at the time, everything began to make sense once we arrived and Eric began to tell me how much he loved me.
TELL US ABOUT FINDING YOUR WEDDING DRESS: I looked at a lot of dresses online but always came back to the Hayley Paige Hayley dress. I thought it was such a regal and classic look and also one I didn't think I'd regret twenty years down the road. I found a bridal boutique in Atlanta (where we live) that carries Hayley Paige dresses and brought my mom, future mother-in-law, future sister-in-law and two best friends with me. Though I was fairly sure the Hayley dress would be the one I'd pick, I tried on several other gowns first and saved the Hayley dress for last. Sure enough, all the other dresses faded away when I put the Hayley dress on. It was such a positive experience, due in large part to my sales consultant who walked me through their entire inventory and also kept the appointment super body positive.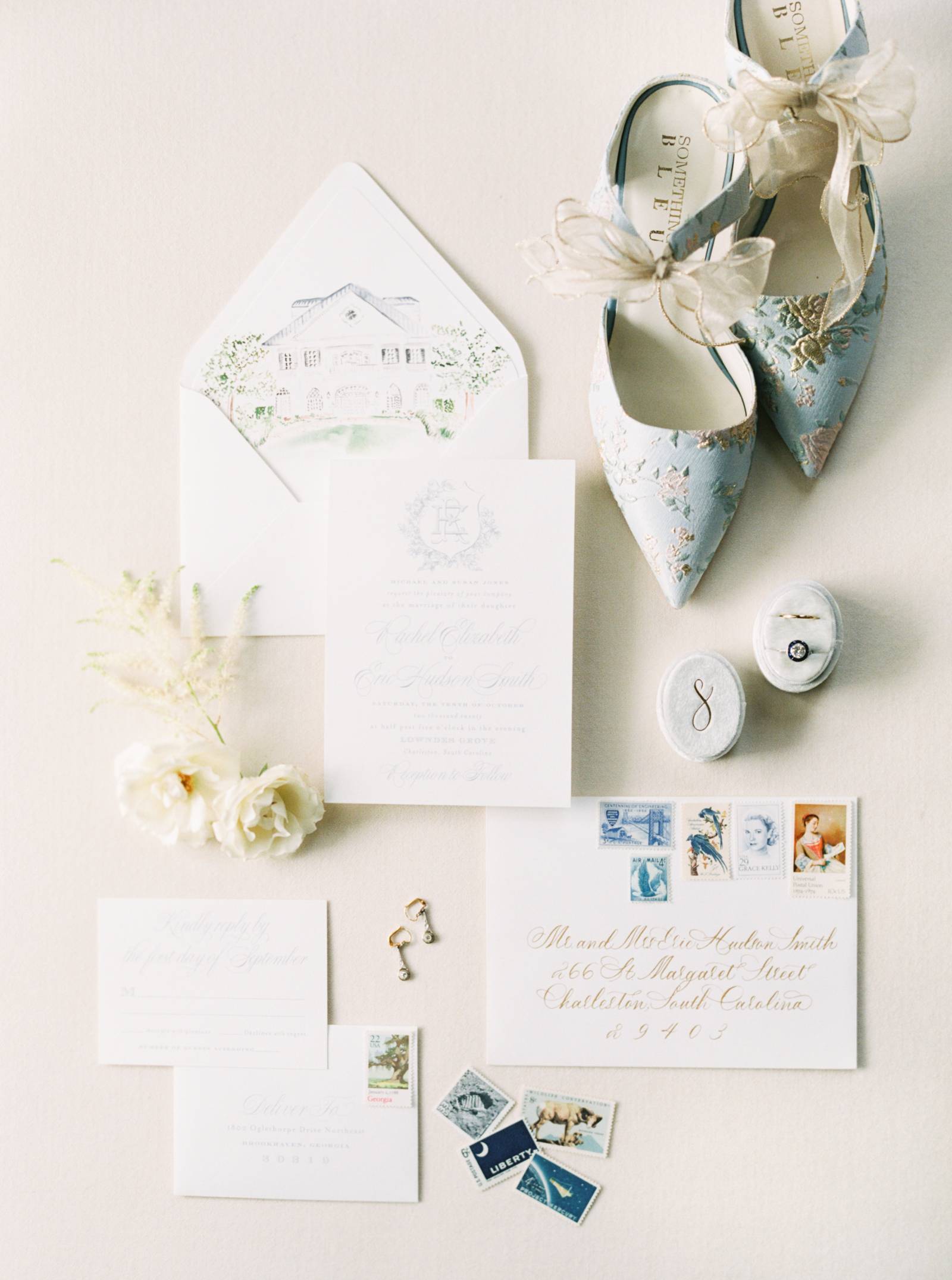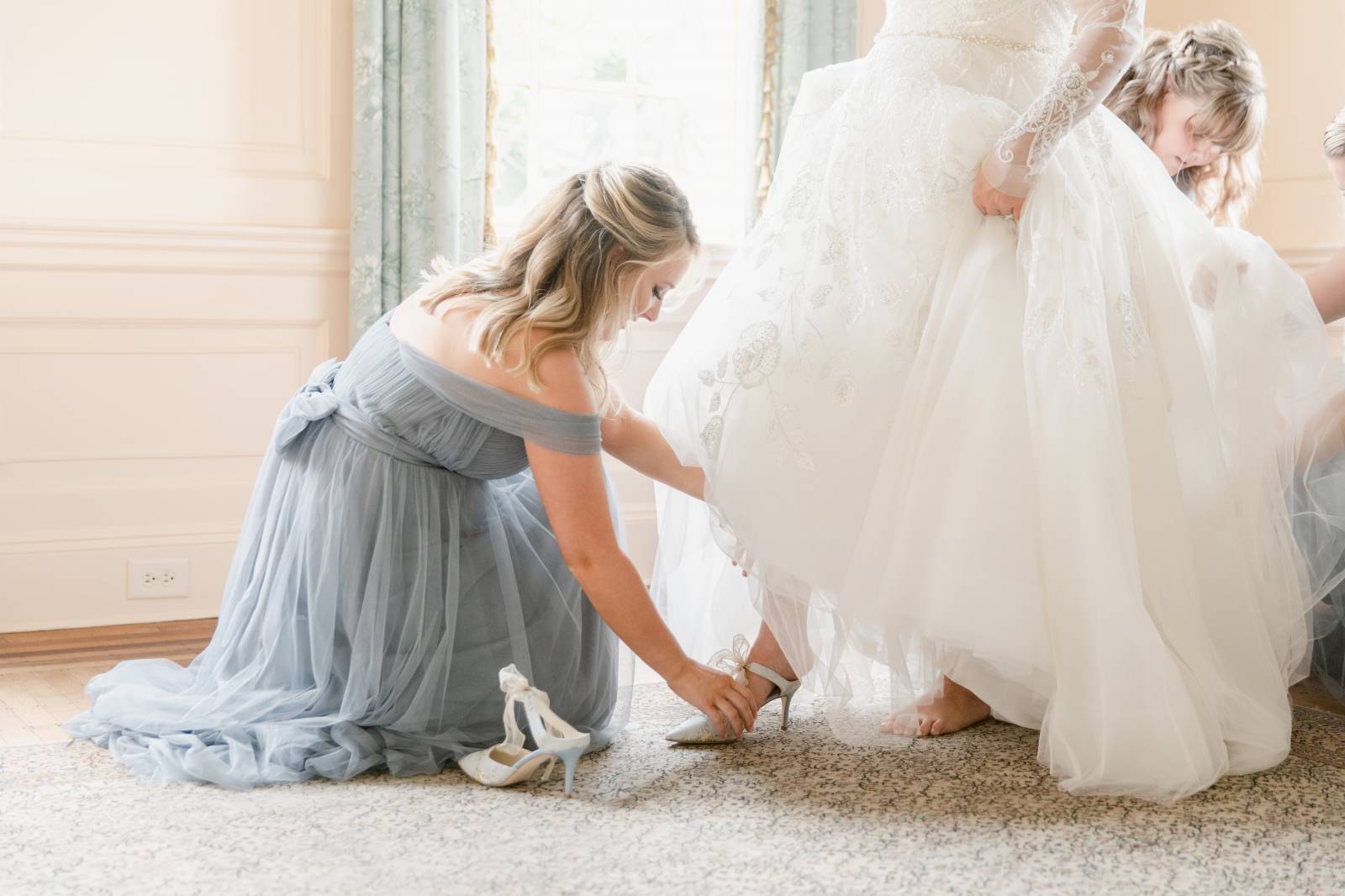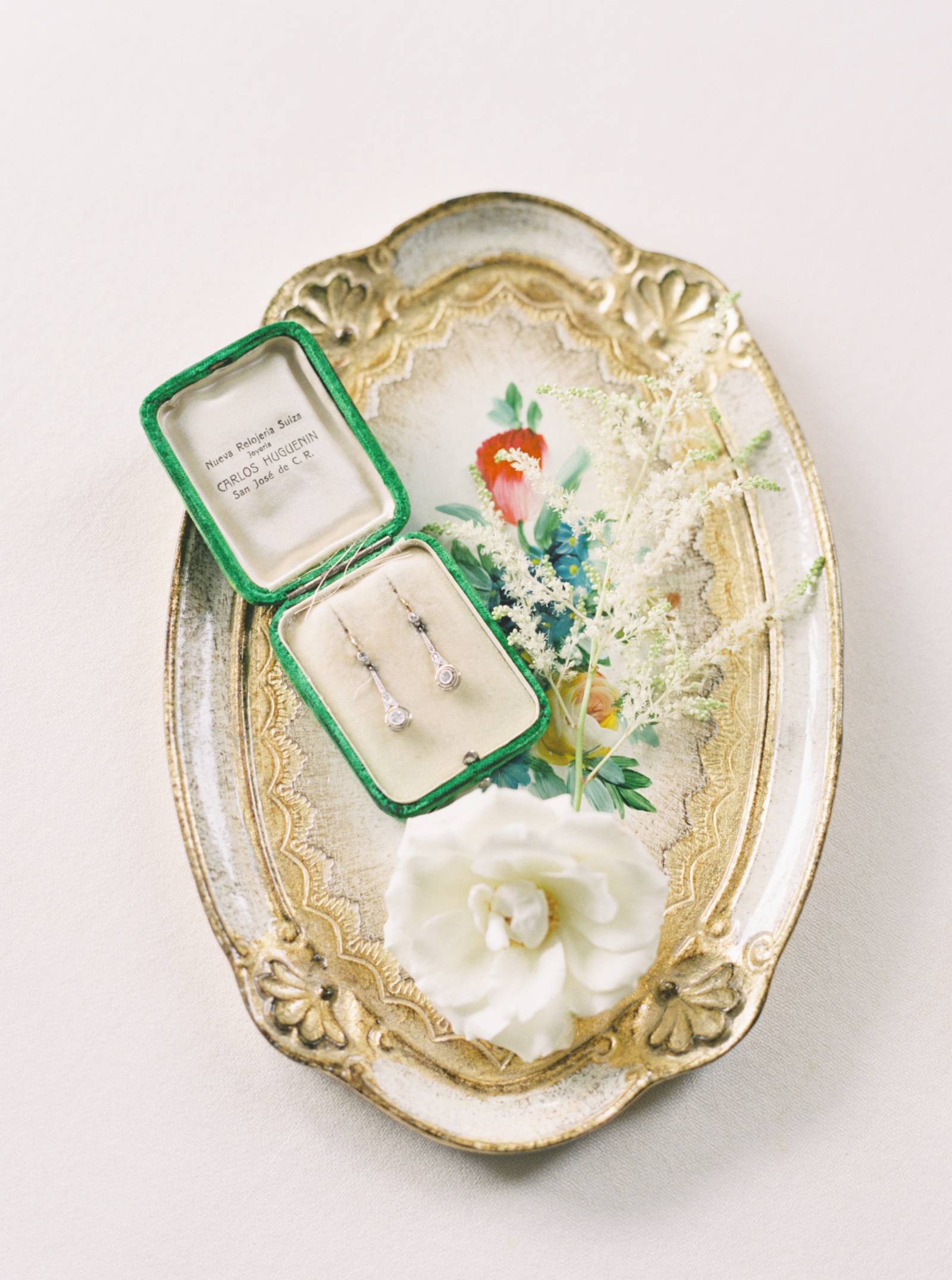 DESCRIBE YOUR WEDDING FLOWERS: Our floral arrangements included white flowers (like white larkspur, garden roses, peonies, hydrangeas and ranunculus), tons of greenery and brunia berries for texture. My bridesmaids carried bouquets of eucalyptus and I carried a loose bouquet with white blooms and touches of greenery. Our head table also had greenery garland woven between blue and white tapered candles. We also had hanging floral installations above the head table and dance floor that added a flair of drama to the space.
FAVOURITE DETAIL OF THE DAY: I was obsessed with the way our hanging floral displays turned out! It looked so ethereal and romantic to have cascading florals over the head table as well as the dance floor. We also added in some glass orbs with tea lights to the display above the dance floor for added light. It was a show-stopping element at our reception that everyone commented on.
WHAT ADVICE WOULD YOU GIVE OUT TO A COUPLE PLANNING THEIR WEDDING? Hire a great wedding planner! Planning a wedding is hard enough – throw in a worldwide pandemic and a torrential downpour and you've got yourself an almost impossible event to pull off. I truly don't know how she did it, but Emily from Ooh! Events moved mountains on our wedding day. So much could've (and I'm sure did) gone wrong at our wedding, but Emily took care of every situation without missing a beat. It was so comforting to know everything was handled so we could be fully present and enjoy our day.
MOST MEMORABLE MOMENT? Originally, we were supposed to have our ceremony followed by a cocktail hour and reception. However, it looked like there was going to be a brief rainstorm right around the ceremony time, so our wedding planner suggested we go ahead and move guests into the covered reception area for a half-hour cocktail hour and let the storm pass, have the ceremony and then another half-hour cocktail hour. Since my husband and I had already done our first look, we were tucked away together away from our guests. It was such a special moment for us both to be able to have a drink, sample our hors d'oeuvres and just be together before we were officially married. I think that time helped us both get rid of some nervous energy and go into our ceremony super relaxed.
WHAT ASPECT OF THE WEDDING WAS THE MOST IMPORTANT TO YOU BOTH? Food! We really wanted the food at our wedding to be incredible and also offer a variety of options. We decided to have action stations that served petite plates (almost tapas size) so our guests could sample multiple dishes. We served Charleston favourites, like she crab shooters and shrimp and grits, as well as other savoury dishes like braised short rib and ricotta gnocchi. As the evening came to an end, we surprised our guests with a few late-night bites that included a smash burger, parmesan truffle fries and chocolate milkshake shooters. Everyone raved about our menu and said it was the best catered meal they'd ever had. I'd give almost anything to taste it again!
ANY OTHER DETAILS THAT HELP TELL THE STORY OF YOUR DAY? Some of our favourite elements were the ones that helped tell "our story." My husband is from Vidalia, GA (home of Vidalia sweet onion) so it was important that we incorporate Vidalia onions into our menu. We also had a signature cocktail named after our fur baby and custom drink stirrers with her portrait on them. I'm a sentimentalist so the most meaningful touches to me were ones like displaying our parents and grandparents' wedding photos inside our venue and cutting our cake with the military saber my parents used to cut their wedding cake.
TELL US A LITTLE ABOUT YOUR HONEYMOON: We originally planned to spend two weeks in Morocco right after our wedding. However, with COVID-19 travel restrictions, we instead went on a mini-moon to Old Edwards Inn in Highlands, NC and also spent a few days in Asheville, NC. We're hoping to celebrate our first anniversary in Morocco later this year.
IS THERE ANYTHING YOU WOULD CHANGE OR DO DIFFERENTLY? The only thing we'd change about our wedding day was something outside anyone's control – the weather! It started lightly raining during the ceremony and turned into a downpour later in the evening. Luckily, our incredible wedding planner was fully prepared and had a great rain plan. They were able to rearrange the lounge area we'd staged by the water under the tent without missing a beat. Plus, now we've got plenty of good luck for our marriage.
Thank you to Charleston wedding photographer AVA MOORE for sharing this beautiful wedding with us today! Her passion is capturing how you FEEL on your wedding day... and of course she does that in an artistic way and in beautiful light. "With my camera, I will soak up all the excitement, love, and joy that you express toward each other on your wedding day. This is also true of other precious moments that you spend with your family and friends. I document, what I think is, your heritage. Photographs are essentially heirlooms!" You can check out more of her work in our vendor collective here and you should also see this Chic Garden party wedding at a grand & historic Charleston home.